Effective January 14, 2021, in response to the new Province-wide Stay-at-Home order, we will be suspending Curbside Dropoff Puppy Parties until further notice.
We will be running Outdoor Socially Distant Group Walk and Train sessions in their place, in compliance with the new regulations.
---
What is a Puppy Party (Curbside Dropoff)
20 minute socialization sessions with 6 puppies (maximum age of 20 weeks) supervised by two When Hounds Fly instructors, livestreamed on our Facebook Alumni Group for puppy parents to view remotely.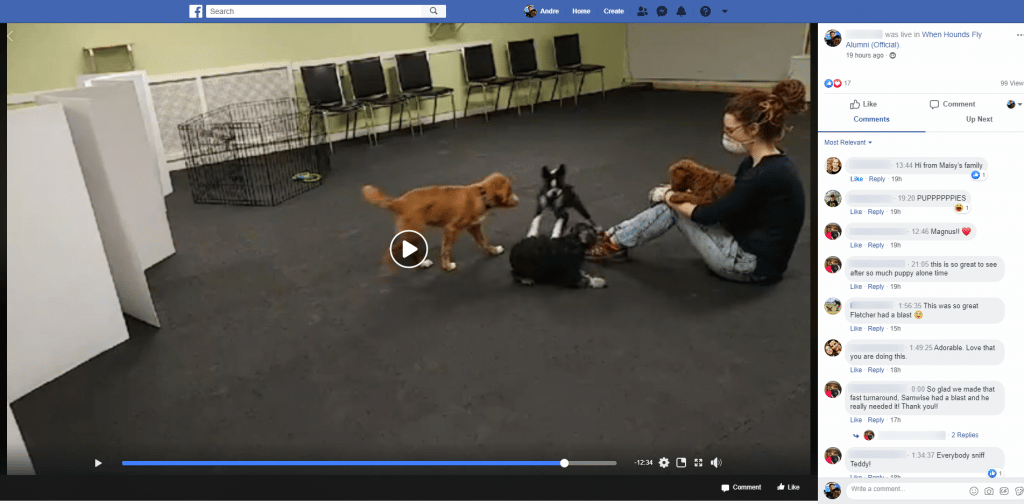 Who is Eligible?
Students of When Hounds Fly Puppy Socialization. We will not be permitting the general public to join our sessions; they're for our students!
What's It Cost?
0.5 Class Credits.
Puppy Restrictions
Sessions are for either under 20 lb puppies, or over 20 lb puppies.
Safety of Puppies
The safety of YOUR puppy is our number 1 concern – it always has been. We will be screening for suitable temperament, so if a puppy is found to be inappropriate for these sessions, we will notify the owners and advise alternatives (as we always have done in the past as well)
Regarding food and treats – if needed to help soothe an anxious puppy, we may use beef liver treats, peanut butter kongs, or possibly a rawhide chew pacifier to nibble on.
Safety of Our Instructors and Our Clients
We will be operating Puppy Parties on a trial basis and their continuation is dependent on whether we can ensure our instructors and our clients' safety is also maintained. Therefore, we are required to implement the following rules and policies with no exceptions – allowing us to focus on the running of these parties and the safety of your puppies, not having to deal with issues caused by lack of punctuality or attention to detail.
When Hounds Fly Curbside Dropoff/Pickup Puppy Party Student Policies
Updated December 28, 2020
Purpose of These Policies:
As we learned in Spring 2020, we need our students' co-operation for this to work. By creating strict rules, we get to reinforce our dedicated students (and their puppies) and not reinforce behaviour that ruins it for everyone (tardiness, lack of attention or care, etc.)
By Logging In and Reserving Classes On This Calendar, You Read and Agree To The Following:
1) Booking A Puppy Party Costs 0.5 Credits – 24 Hour Cancellation Policy Enforced – If a student fails to withdraw from a Puppy Party before the 24 Hour Cancellation window, the credit is forfeit – No Makeups, No Returns, No Exceptions Under Any Circumstances. As humans are not permitted in our facilities at this time, Covid-19 self-isolation is not a valid reason- please arrange for a friend or family member to transport your puppy to and from their booked Puppy Party. Please book with care and attention.
2) The door to our facility is locked, only our employees are allowed inside. Our employees will be outside during dropoff and pickup windows only. Please respect the boundaries marked on the sidewalk/entrance area and maintain adequate physical distance from other students who may also be queuing outside.
3) Puppy Must Be Wearing a Flat Collar or Harness on a Leash – Puppies cannot be naked or not on leash, or given to us in a carrier, etc. Fail to bring your puppy on correct equipment and we will not accept your puppy and your credit is forfeit.
4) Zero Tolerance for Late Arrivals – Dropoff Window is First 5 Minutes of Your Timeslot (i.e. Timeslot starts at 6:00, dropoffs accepted from 6:00 to 6:05). Arrive Late and we will not accept your puppy and your credit is forfeit.
5) Penalty Fees/Zero Tolerance for Late Pickups – Pickup Window is Within 5 Minutes after the End of Your Timeslot (i.e. Timeslot ends at 6:30, the pickup window would be 6:30-6:35). Arrive after the Pickup Window, and you will be levied the following late pickup penalty fee:
– 1-second to 30 minutes late = $39 plus HST
– 30 minutes+ late, # of minutes late x $1.30 per minute plus HST
– Up to a maximum of $234 plus HST
6) Late Pickup Penalty Fee must be paid on the spot via email money transfer to info@whenhoundsfly.com prior to us releasing your puppy.
How Do I Book A Spot?
Go to your Virtual Class Calendar site, and you'll see the following link. Click on it and you'll be taken to the Brick and Mortar class calendar, and you'll see the Puppy Party schedule.