Foundation Skills Level 2
Foundation Skills Level 2
You've done one round of Foundation Skills class, and your dog can stay, recall, and walk nicely on a leash – when there's NO distractions.
But, now you want to put these skills to the test – closer and closer to other dogs and people!
Wouldn't it be nice to be able to:
Have your dog sit calmly while you have a chat with your neighbour?
Pass another dog on the sidewalk, while your dog remains focused on you?
Enjoy time on a patio while your dog settles by your feet?
Go for off-leash adventures, and trust you can recall them back to you?
Then, Foundation Skills Level 2 is for you and your dog!
Prerequisites: Taken at least one full round of Foundation Skills at When Hounds Fly
Please note: This class is not appropriate if your dog exhibits excessive fearful or aggressive behaviour. Please see our Behaviour Modification page for information on private lessons to address fear or aggression.
Resisting Distractions
Walk this Way
Patio Pup
Off-Leash Adventures
Dog Show Ready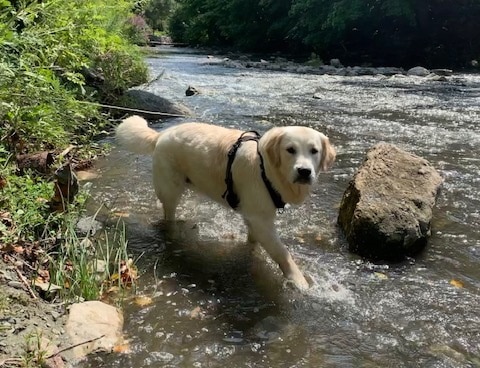 Foundation Skills Level 2 with When Hounds Fly has been such a great experience. Our 11 month old Golden Retriever loves coming to class and responds so well to the teaching.
We left ever more confident she will be able to become the therapy dog we would love her to be. Thank you to all the amazing instructors at When Hounds Fly who have helped us through Puppy Start Right and Foundation Skills Level 1 classes also!
– Jenny and Georgie Girl
Program Tuition
$260 for each 5 week program
For details regarding class/training policies, please see our Policy page:
Where and When?
Dundas West – (Sold Out) Monday, February 13 – March 20 and Wednesday, February 22 -March 22 at 8:00PM

Dundas West – (Sold Out) Sunday, February 12 – March 19 at 3:30 pm
Dundas West – Wednesday, Apr 5 – May 3 at 8:00PM with Luca Markus
Yonge and Eglinton – Wednesday, January 25 – February 22 at 8:00PM with Anita Rahmati and Tuesday, April 4 – May 2 at 8:00 pm with Billie Jean Shannon
Yonge and Eglinton – (Sold Out) Wednesday, March 1 – March 29 at 8:00PM

Pape Village – (Sold Out) Sunday, February 12 – March 19 at 12:00PM
Pape Village – Sunday, March 26-April 30 (Skips Easter Weekend) at 12:00PM with Mayra Morales,
Wednesday, February 1 – March 1 at 8:00PM and Wednesday March 15 – April 12 with Erin Britton
South Etobicoke – (Sold Out) Monday, February 6 to March 13 at 8:00PM 
South Etobicoke – Monday, March 27 – April 24 with Rachael Johnston and Sunday, April 30 – June 4 at 12:00PM with Hu Wang
This is an advanced class.  Dogs must have finished all foundation skills classes first.
Trained Elsewhere? Challenge our Evaluation Module and pass to get access.
Login to our class calendar system, purchase credit(s) and register for available spots.