All of the instructors at When Hounds Fly are either Karen Pryor Academy Certified Training Partners, or have earned their Certified Professional Dog Trainer – Knowledge Assessed designations, or hold academic degrees in animal behavior. We proudly maintain the highest standards of ANY dog training school in Toronto. We also invest heavily in continuing education and also internal skills development, and are proud to be part of mentoring the next generation of this city's top dog training instructors.
Rachael Johnston, CPDT-KA, KPA CTP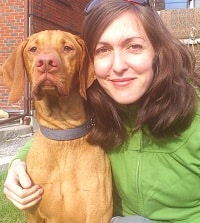 Rachael Johnston is one of the few dog trainers in the Greater Toronto Area to have graduated from the Karen Pryor Academy of Animal Training and Behaviour, and also be certified by the Certification Council for Professional Dog Trainers. She completed her Karen Pryor Academy study under Helix Fairweather. Most recently, she became a Family Paws Parent Educator.

Over ten years ago, Rachael got her start in positive reinforcement training as a volunteer, a mentor and instructor at Sit Happens in Calgary. She graduated from the Karen Pryor Academy in 2009, studying under Helix Fairweather.

Rachael loves training dogs! It fills her with joy to see wagging tails and bright eyes as each dog uses their amazing mind to learn all the crazy things we humans want to teach! And it gives her just as much joy to see owners delighted by the discovery that their dogs are such intelligent and fast learners.

Previously, Rachael was the Operations Manager for Rover Achiever Pet Care and she spent six years walking groups of dogs in some of the most beautiful parks in the city. She has a Conservatory Bachelor of Arts from the University of Alberta.

Rachael lives with her amazing Vizsla, Oscar, who fills her heart to overflowing and who makes her laugh every single day.

Rachael instructs Puppy Socialization, Foundation Skills classes and Tricks classes at When Hounds Fly.
Hu Wang, CPDT-KA, KPA CTP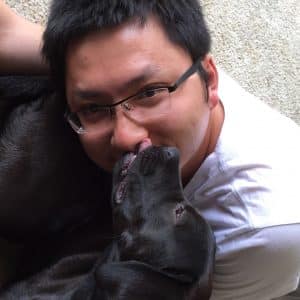 Hu Wang graduated from the Karen Pryor Academy for Animal Training and Behavior under Laurie Luck in 2016.
Over the past three years, Hu worked as an apprentice dog trainer in Arlington, Virginia and volunteered at numerous animal shelters in the US. Hu and his wife moved to Toronto with their Beagle/Vizsla mix, Bear in the summer of 2018.
Hu has loved animals since he was a child, growing up with dogs in the family. After obtaining a Bachelor's Degree of Art in Media Production in United Kingdom, Hu worked as a TV producer in Beijing for five years. During that time, he covered stories about dogs causing societal issues, and he realized that these issues stemmed from society's lack of understanding of canine behaviour. He wanted to change that, so in 2015, he left the TV industry and relocated to the US to begin his career in dog training.
Hu adores Bear who he adopted in Missouri in 2015. Bear has been an amazing training buddy and provided constant support ever since. Hu and his wife have traveled across North America always with Bear by their side.
Hu instructs Puppy Socialization and Foundation Skills classes at When Hounds Fly.
His dog on Instagram:  bear_the_happy_dog_official
Erin Britton, CPDT-KA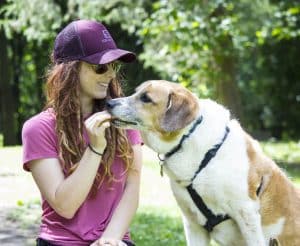 Erin is an instructor at When Hounds Fly, teaching puppy classes and foundation skills.
Prior to joining our team as a full-time instructor, she also owned and operated her own dog walking business, A Couple of Mutts, which was voted Toronto's Best Dog Walking Company 2017 by The Toronto Pet Daily.
Before she became a dog training instructor, she completed her Concurrent Bachelors of General Science and Education, but felt more drawn to the canine classroom than the high-school classroom.
A client's dog, suffering from severe anxiety and OCD prompted Erin to take a strong interest in canine behaviour. Since then, she's endlessly studied canine behaviour and psychology in order to help more dog owners truly understand what their dogs are trying to tell them. She loves making people think like their dog in order to deepen their understanding of the canine life.
Erin lives with her rescued beagle-lab mix Bob, and plays favourite aunt to many of her dog walking clients. Trick training and hiking are their favourite past-times!
Her dog on Instagram:  bobbert_j_dingdong
Stephanie Tran, CPDT-KA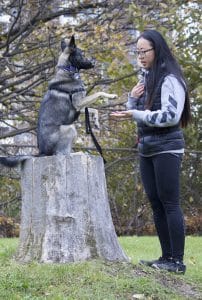 Stephanie Tran joined the When Hounds Fly team as an instructor in 2017.
She began as a volunteer classroom assistant in early 2016, in order to increase her knowledge and understanding in positive reinforcement training. She continues to read books and take online courses to further her education. She completed her Karen Pryor Academy Dog Trainer Foundations course in 2015 and Dog Emotion and Cognition course by Duke University through Coursera in 2017.
Stephanie is passionate about helping reactive dogs. Prior to joining When Hounds Fly as an instructor, she was a dog walker, providing 1-on-1 walks for dogs that have fear and aggression issues.
Prior to this, Stephanie gained a significant amount of hands-on experience with dogs of all breeds, sizes and temperaments as a full-time Animal Care Attendant at Parker Pet Care for over 3 years.
Besides her love of dogs and behaviour, Stephanie is also passionate about photography. She currently lives with her German Shepherd mix, Mila, who she adopted and rescued from Sochi, Russia. Both enjoy trick training and taking long hikes.
Her dog on Instagram: mila_therescue
Claire Kilburn, CPDT-KA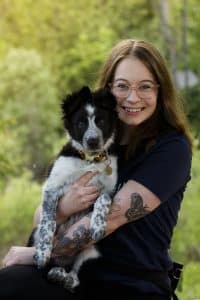 Claire has been with When Hounds Fly since early 2015. She started as a classroom assistant, then soon became a member of the instructor team. Claire now teaches group classes and private lessons, and also handles administration and operations. 
While working with the team, Claire completed a Bachelor of Science in Psychology, which has helped her further her understanding of learning theory and its applications. She is devoted to her continuing education as well, which has included ClickerExpo and Fenzi Dog Sports Training Camp.
Claire waited a very long time before being able to finally bring her own dog home. She is so happy to finally have Venn, a working line Border Collie, in her life. They are training to compete in dog sports such as obedience, agility, dock diving, and disc. They also enjoy hiking together, and Venn is a great model for her photography hobby! Not to be forgotten, Claire also lives with her partner Miles and their cat Avery.
Her dog on Instagram: a.very.venn
Dr. Sarah Shapiro-Ward PhD, CPDT-KA, CTDI
Sarah is a Certified Professional Dog Trainer (Knowledge-Assessed) and a Do More With Your Dog Certified Trick Dog Instructor.
Sarah and her Cockapoo, Percy, have been featured on Jimmy Kimmel Live!, The Daily Mail UK, and has even been interviewed by NHK Japan for many of the amazing tricks she has clicker trained, such teaching Percy how to play Connect 4 and Jenga, and even paint on canvas!
Besides tricks, Sarah has successfully helped hundreds of dog owners with issues ranging from new puppy issues to more severe fear and aggression cases.
Before becoming a dog trainer, Sarah was an academic biochemist specialising in the digestion of prebiotics. She completed her Ph.D. in 2015 at the University of Newcastle, UK and continued her research at the University of Victoria, BC as a post doctoral researcher. While she assures us that she is happy to leave the lab behind, she continues to apply her skills of objective analysis, deconstruction and presentation to training scenarios.
Sarah is available for private lessons out of Vancouver, and phone consults/trick titling services worldwide.
Her dog on Instagram: prancing_percy
Victoria Benner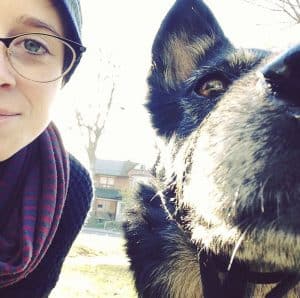 Victoria is our Client Experience Administrator – if you've ever sent us an email, you'll have interacted with her!
Victoria was born a true animal lover, but only began her career in the animal world when she moved from Ireland to Canada in 2010. Prior to joining the When Hounds Fly Team, she worked at an animal shelter and a busy emergency veterinary clinic. She then set up her own small dog walking and pet sitting business, which she continues to run part-time.
Her deep interest in dog training and behaviour was sparked during her time as a Canine Adoption Agent at the shelter, but really took hold when she adopted her beautiful senior dog, Patty, and they began their own training journey together.
Victoria loves nothing more than to know that she is helping pet parents on the journey to getting to know their beloved pets even better, through positive reinforcement based training.
Andre Yeu, CPDT-KA, KPA CTP, Founder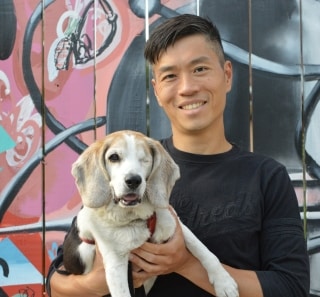 Andre Yeu is one of only two Canadians to be part of the prestigious Karen Pryor Academy Faculty. In addition to leading When Hounds Fly, he teaches the flagship Dog Trainer Professional program for the Karen Pryor Academy.

He originally completed his Karen Pryor Academy certification in 2010 under Steve Benjamin.

He founded When Hounds Fly Dog Training in January 2010, starting as the only trainer in a single location, and oversaw its growth to three locations and a total of seven trainers today. Currently he teaches Puppy Socialization and Foundation Skills classes at the Queen West location.

Andre is often sought out by the media for his dog training expertise, and has appeared on television programs such as eTalk Daily, Global TV News, and he was the official dog trainer for the hit reality series, CBC's Over The Rainbow. In print, he's been interviewed by publications such as Canadian Living and the Toronto Star.

Andre grew up in Vancouver, and has a Bachelor's Degree in Commerce, with Honours, from the University of British Columbia. He lives with his partner, Hyedie Hashimoto, and their rescue Beagle, Phoebe. Phoebe passed her Canine Good Neighbour test in 2018. With his previous rescue Beagle, Petey, Andre enjoyed training and competing in Rally Obedience. Petey had earned his Canine Good Neighbour and Rally Obedience Novice titles. Other than dogs, Andre is a fitness enthusiast and participates in Muay Thai and previously competed in triathlon.

On Instagram: andre_yeu