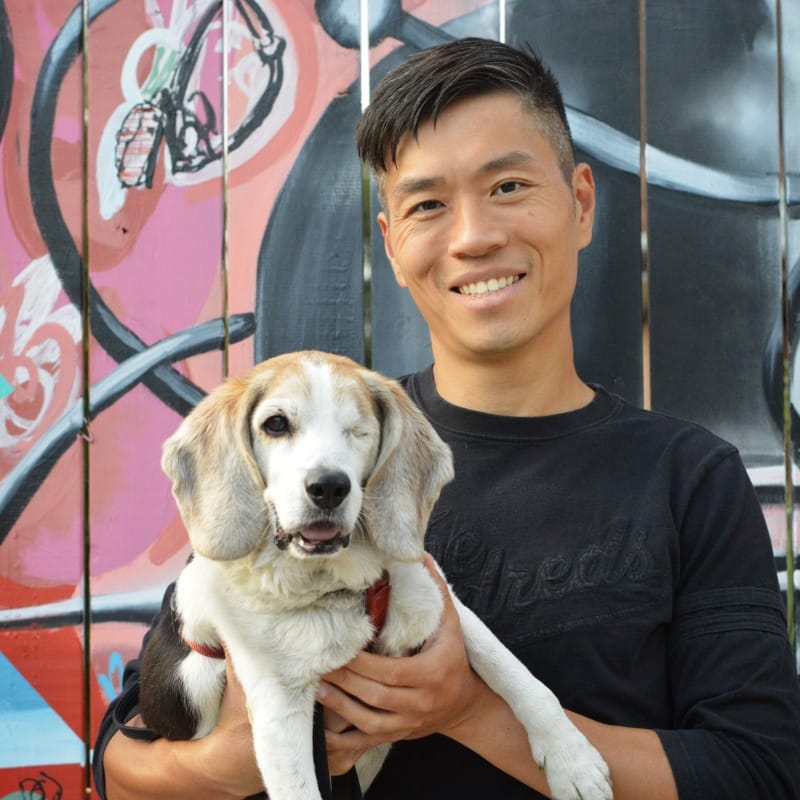 Andre Yeu, CPDT-KA, KPA CTP, Founder
Andre Yeu is one of only two Canadians to be part of the prestigious Karen Pryor Academy Faculty. In addition to leading When Hounds Fly, he teaches the flagship Dog Trainer Professional program for the Karen Pryor Academy.
He originally completed his Karen Pryor Academy certification in 2010 under Steve Benjamin.
He founded When Hounds Fly Dog Training in January 2010, starting as the only trainer in a single location, and oversaw its growth to six locations and a total of twenty trainers today.
Andre is often sought out by the media for his dog training expertise, and has appeared on television programs such as eTalk Daily, Global TV News, and he was the official dog trainer for the hit reality series, CBC's Over The Rainbow. In print, he's been interviewed by publications such as Canadian Living and the Toronto Star. He also speaks at industry conferences such as the annual IAABC Foundation Conference (2023), APDT Conference (2023), and ClickerExpo (2014).
Andre grew up in Vancouver, and has a Bachelor's Degree in Commerce, with Honours, from the University of British Columbia. He lives with his partner, Hyedie Hashimoto, and their rescue dog, Mikey, a Cane Corso mix. Previously, Andre's past rescue dogs titled in Rally Obedience and earned their Canine Good Neighbour certifications. Other than dogs, Andre is a fitness enthusiast and participates in Muay Thai and previously competed in triathlon.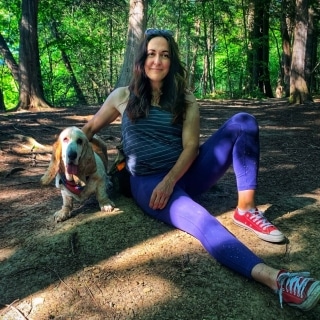 Rachael Johnston, KPA CTP
Rachael Johnston is a veteran dog trainer and behaviour consultant. In 2009, she completed her Karen Pryor Academy study under Helix Fairweather. Recent certifications of note include her becoming a Family Paws Parent Educator, and completing Dr. Susan Friedman's Living and Learning with Animals program.
Rachael loves training dogs! It fills her with joy to see wagging tails and bright eyes as each dog uses their amazing mind to learn all the crazy things we humans want to teach! And it gives her just as much joy to see owners delighted by the discovery that their dogs are such intelligent and fast learners.
Fifteen years ago, Rachael got her start in positive reinforcement training as a volunteer, a mentor and instructor at Sit Happens in Calgary.
Previously, Rachael was the Operations Manager for Rover Achiever Pet Care and she spent six years walking groups of dogs in some of the most beautiful parks in the city. She has a Conservatory Bachelor of Arts from the University of Alberta.
Rachael is responsible for our Reactive Dog Group Class program and also leads our internal skills development programming.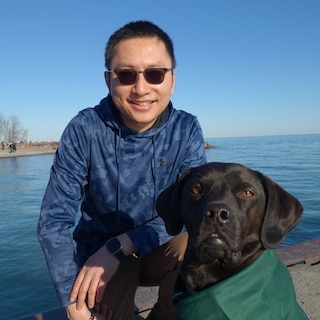 Hu Wang, CPDT-KA, KPA CTP
Hu Wang graduated from the Karen Pryor Academy for Animal Training and Behavior under Laurie Luck in 2016.
Over the past three years, Hu worked as an apprentice dog trainer in Arlington, Virginia and volunteered at numerous animal shelters in the US. Hu and his wife moved to Toronto with their Beagle/Vizsla mix, Bear in the summer of 2018.
Hu has loved animals since he was a child, growing up with dogs in the family. After obtaining a Bachelor's Degree of Art in Media Production in United Kingdom, Hu worked as a TV producer in Beijing for five years. During that time, he covered stories about dogs causing societal issues, and he realized that these issues stemmed from society's lack of understanding of canine behaviour. He wanted to change that, so in 2015, he left the TV industry and relocated to the US to begin his career in dog training.
Hu adores Bear who he adopted in Missouri in 2015. Bear has been an amazing training buddy and provided constant support ever since. Hu and his wife have traveled across North America always with Bear by their side.
Hu instructs group classes and provides 1-on-1 private lessons focused on dogs with fear, anxiety, and aggression issues.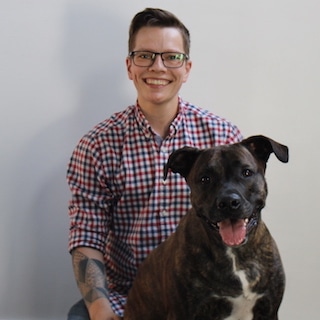 Luca Markus, CPDT-KA, KPA CTP
Luca (pronounced Loot-sa) joined the instructor team at When Hounds Fly in January 2021, after completing our intensive Dog Trainer Internship program in Fall 2020. She also earned her CPDT-KA certification in 2021 and became a Karen Pryor Academy Certified Training Partner (KPA CTP) in 2022.
Luca's involvement with When Hounds Fly started in 2019 as a student, when she and her partner got Zoe, their mastiff-lab mix puppy. Together with Zoe, they completed our Puppy Start Right, Foundation Skills, and Canine Good Neighbour programs.
Her dog training interests have expanded to trick training, agility, and most recently, scent detection.
Prior to joining the When Hounds Fly team, Luca worked as a civil engineer, and volunteered as a bike mechanic at a non-profit DIY bike shop. Currently, she is finishing her PhD in civil engineering at the University of Toronto.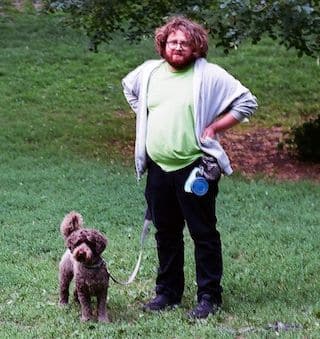 Ethan joined the When Hounds Fly instructor team in May 2023, while still enrolled at Karen Pryor Academy for Animal Training. He earned his Karen Pryor Academy Certified Training Partner (KPA CTP) designation in July 2023. Prior to his role at When Hounds Fly, Ethan began working with dogs at Camp Canine, a dog daycare in midtown Toronto. There, he developed a keen interest in studying canine social behaviour and gained over a year's worth of experience handling dogs of various breeds and temperaments. His responsibilities included ensuring safe play and positive social interaction among dogs. Ethan's focus lies in assisting dogs dealing with reactivity, aggression, and fear. He also has a budding interest in dog sports, scent detection, and service dog training.
Before entering the world of dog training, Ethan completed a Master's degree in Ancient Greek philosophy and literature at the University of Toronto. Additionally, he spent time as a volunteer teaching the Humanities and literacy in prisons in Nova Scotia.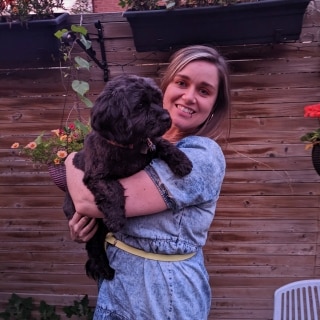 Billie Shannon, CPDT-KA, CSAT
Billie joined the instructor team at When Hounds Fly in January 2021, after completing our intensive Dog Trainer Internship program in Fall 2020. Billie is our resident Separation Anxiety expert, and has completed the 100+ hour intensive Certified Separation Anxiety Trainer (CSAT) program. She also earned her CPDT-KA certification in 2021.
Billie's career at When Hounds Fly started as a classroom assistant, assisting our instructors in Puppy Start Right and Foundation Skills classes. Previously, she was also a playcare attendant at Unleashed in the City, a popular downtown dog daycare and walking/adventure hike company. There, she helped many puppies learn how to play appropriately, relax and settle, and recall for off-leash hikes.
Billie is the proud parent of Todrick, her senior rescue dog. Billie and her fiancé are passionate about rescuing and training rats – hers are very smart and love tricks!
Billie has a BA and M.Sc in Psychology, and continues to learn every day about animal behaviour. Outside of the classroom, Billie enjoys reading, hiking, cooking, and theatre acting.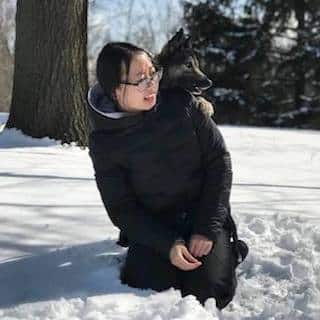 Stephanie Tran, CPDT-KA, CTDI, KPA CTP
Stephanie Tran joined the When Hounds Fly team as an instructor in 2017.
She began as a volunteer classroom assistant in early 2016, in order to increase her knowledge and understanding in positive reinforcement training. She continues to read books and take online courses to further her education. She completed her Karen Pryor Academy Dog Trainer Foundations course in 2015 and Dog Emotion and Cognition course by Duke University through Coursera in 2017.
In 2021, she became a Certified Professional Dog Trainer (CPDT-KA) and in 2022, a Certifeid Trick Dog Instructor (CTDI) through Do More With Your Dog. She became a became a Karen Pryor Academy Certified Training Partner (KPA CTP) in 2023. 
Stephanie is passionate about helping reactive dogs. Prior to joining When Hounds Fly as an instructor, she was a dog walker, providing 1-on-1 walks for dogs that have fear and aggression issues.
Prior to this, Stephanie gained a significant amount of hands-on experience with dogs of all breeds, sizes and temperaments as a full-time Animal Care Attendant at Parker Pet Care for over 3 years.
Besides her love of dogs and behaviour, Stephanie is also passionate about photography. She currently lives with her German Shepherd mix, Mila, who she adopted and rescued from Sochi, Russia. Both enjoy trick training and taking long hikes.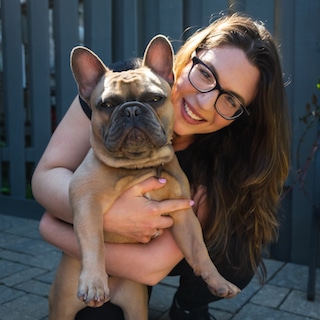 Alessia joined the instructor team at When Hounds Fly in January 2022, after completing our intensive Dog Trainer Internship program in Fall 2021. She has completed her Karen Pryor Academy Dog Trainer Foundations course in 2021, and is working towards her CPDT-KA.
She has had a fondness for animals since she was a little girl, with a special love for dogs. She became a dog parent in 2018 when she brought home Bentley, her French Bulldog, who she often refers to as her best friend and greatest teacher!
Her passion for dog training began when working through the challenges she faced with her own dog's reactivity and anxiety. After attending training with various trainers without much success, she took private lessons at When Hounds Fly, and noticed the immediate difference in service and care. She knew right away that she wanted to help other dog guardians who may be struggling with their furry friends.
Alessia teaches Puppy Start Right and Foundation Skills classes at When Hounds Fly. Her goal as an instructor is to bring a kind and empathetic approach to dog training, with a focus on strengthening the relationship between human and dog.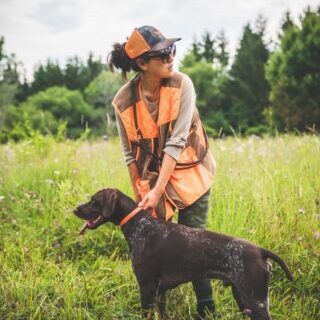 Diana is a Karen Pryor Academy Certified Training Partner, and a certified Family Dog Mediator through the Kim Brophey's L.E.G.S. Applied Ethology Family Dog Mediation program.
Diana has been in the pet industry since 2007, starting as a dog walker/boarder, and then opening her own daycare in 2011.
She shares her life with Dagmar, a three-year old German Shorthaired Pointer, and enjoys training and trialing him in many dog sports such as obedience, rally-o, scentwork, barn hunt, and hunt tests. She is also a volunteer with the North American Versatile Hunting Dog Association and has even learned how to shoot a rifle, all in the name of applying positive reinforcement training to the gun dog world.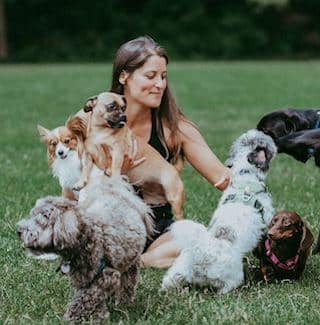 Roberta grew up in Brazil, where she raised a dog named Mitzi, a Dachshund mix who brought joy and unconditional love to her family for 6 unforgettable years.
She moved to Canada in 2017 and found her passion working with dogs and cats, starting a pet sitter business, "Beta Folks". The years of experience brought her profound knowledge in dog socialization, welfare and basic foundation skills.
During the pandemic she realized that clients were looking for guidance regarding dog behavioural issues, which made her understand that there was a need to seek more knowledge in how to facilitate communication and interaction between humans and their beloved canine companions.
In 2021 she started as a volunteer at When Hounds Fly and after completing the intensive Dog Trainer Internship program in Fall 2021, Roberta joined our team of instructors.
Prior to coming to Canada, Roberta graduated from Pontifical Catholic University of Rio de Janeiro, where she obtained her law degree and worked as an intellectual property lawyer.
Anastasiia is originally from Ukraine, where she fulfilled her lifelong love of animals by volunteering in shelters, and helping rescue street dogs and cats.
She migrated to Canada in 2020, and her dream came true when she finally became a puppy parent of her own, with Casper. During the Covid-19 pandemic, she took many virtual and online courses on co-operative care, separation anxiety, and positive reinforcement training. As things re-opened, she became a classroom assistant at When Hounds Fly.
Now, she helps pup parents as a Client Experience Administrator on our team. In her spare time, she also volunteers with One Health Partners Therapy Dogs as a marketing assistant and dog team evaluator.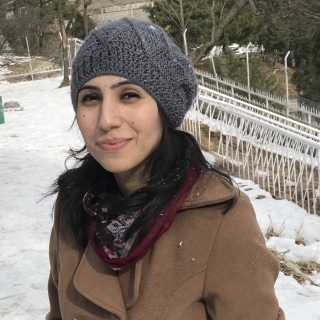 Haneen joined the Operations Team at When Hounds Fly in June 2023, as our Operations and Admin Associate. She lives in Islamabad, Pakistan and works remotely in her role. She loves pets, especially puppies, and yearns for the day she can become a puppy parent! Currently, however, she has her hands full, raising her two sons, Usama and Yusuf.
At When Hounds Fly, she is responsible for the daily scheduling of Group Classes, tracking operational KPIs and the smooth running of Operations across the Toronto locations.
Haneen has an educational background in Finance, with an Honors Bachelor of Science in Business Administration. Since joining the team, she has become greatly interested in dog training and learning about the positive relationship building between humans and their dogs. In her spare time, she loves reading, travelling and cooking.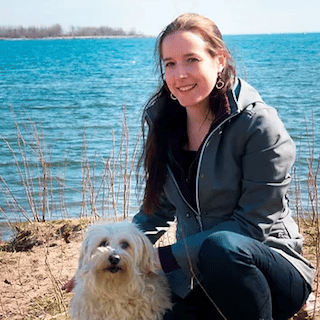 Sharon is the General Manager of When Hounds Fly and is responsible for overseeing our Toronto operations.
Prior to joining our team, in 2014, she founded and grew Best Friend Pet Services, a Toronto-based dog walking and boarding company, which was later acquired by BFF Playcare, and managed its Prince Edward County boarding facility.
Sharon's experience also includes working with dog rescues, being part of the volunteer or leadership teams in rescue organizations such as TEAM Dog Rescue and Black Dog Rescue. Having to help dogs that end up in rescue situations motivates her every day to educate pet guardians on how to improve their relationships with their dogs and teach them life skills they need to stay in their forever homes.
Her first exposure to positive reinforcement training was in 2003 with Griffin, her Yorkie-poodle myster mix, taking puppy classes with Norma Jean Laurette in Kitchener. Sharon's educational background in dogs includes in-person coursework with the Canine Foundations series from Georgian College, and distance education with Canine Correspondence Studies.
Prior to starting her career with dogs, Sharon spent nearly ten years working in financial services. She graduated from the University of Waterloo with an Honours Bachelor of Science degree in Biology.
Sharon lives in Kitchener, and on days she commutes to Toronto, she often is accompanied by her sidekick, a brown lab rescue named Maggie.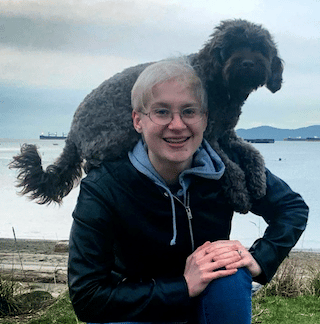 Dr. Sarah Shapiro-Ward PhD, CPDT-KA, KPA CTP, CTDI
Sarah is a Certified Professional Dog Trainer (Knowledge-Assessed), a Karen Pryor Academy Certified Training Partner (KPA CTP) and a Do More With Your Dog Certified Trick Dog Instructor.
Sarah and her Cockapoo, Percy, have been featured on Jimmy Kimmel Live!, The Daily Mail UK, and has even been interviewed by NHK Japan for many of the amazing tricks she has clicker trained, such teaching Percy how to play Connect 4 and Jenga, and even paint on canvas!
Besides tricks, Sarah has successfully helped hundreds of dog owners with issues ranging from new puppy issues to more severe fear and aggression cases.
Before becoming a dog trainer, Sarah was an academic biochemist specialising in the digestion of prebiotics. She completed her Ph.D. in 2015 at the University of Newcastle, UK and continued her research at the University of Victoria, BC as a post doctoral researcher. While she assures us that she is happy to leave the lab behind, she continues to apply her skills of objective analysis, deconstruction and presentation to training scenarios.
Sarah is teaching group classes as well as seeing clients for Private Lessons in Vancouver.