Scent Detection
Your dog's got an amazing nose! Train them to use it!
Dogs using their nose benefit from:
Enrichment from being able to express their natural instincts to sniff
Mental stimulation from having to use that sense to perform a specific job
Reduced stress and boredom at home, in just 5-10 minutes of scent detection per day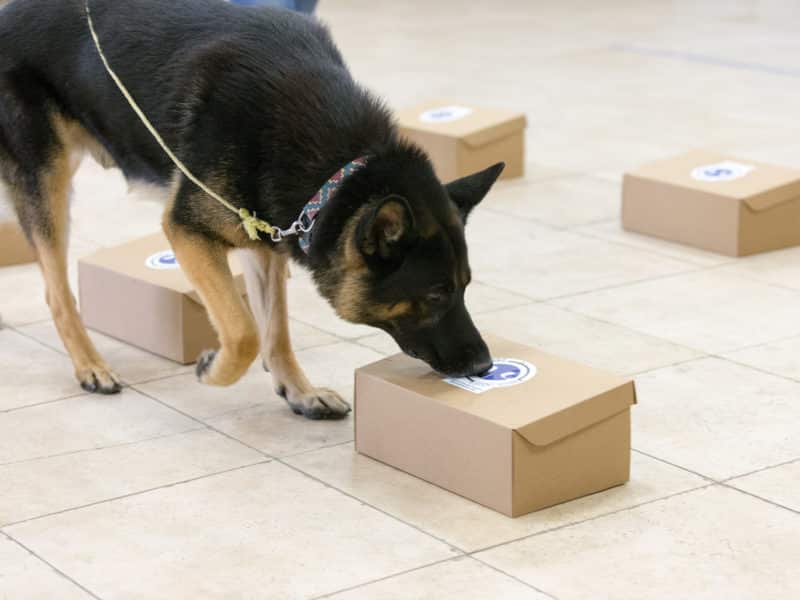 In this course, we'll teach you how to train your dog to search for, detect, and indicate they've found a specific scent. Exactly how working dogs are trained to detect bed bugs, flora and fauna, contraband, and even medical conditions in patients.
The class curriculum is organized around preparing your dog to participate in a Designated Odour Test (DOT) in the sport of Scent Detection, and the target odour we will default to is Wintergreen.
Students must obtain their own equipment, most is from the Dollar Store, other than Essential Oil:
Wintergreen Essential Oil (or whichever odour you wish to train for)
Q-Tips
Airtight jar to store scented q-tips
Tweezers and gloves to handle odour
4 x Cosmetic tins, or Tupperware containers (condiment sized), with holes cut in top
Blu-tack adhesive
Curriculum:
Handling and preparing scent, scent tins, and cold and hot boxes
Building motivation to conduct search work
Building commitment to remain and indicate the detection of the target odour
Practicing for your Designated Odour Test (DOT)
Program Tuition: $217.36 per dog plus HST
For details regarding class/training policies, please see our Policy page.