Introducing Dog and Baby – Expectant New Parents
If you are expectant parents, or are new parents, or have a baby that is transitioning into a mobile toddler, and you want to proactively help your dog successfully handle this transition, this service is for you!
Dogs and children can be great friends but it's important know that there are big differences between your fur baby and human baby. These differences often lead to a break down in relationship that can result in stressful, or even dangerous situations.
Good planning, training and management is vital to create a healthy, safe, joy-filled and stress-free environment for all family members both human and canine; An environment where the emphasis is on trust and relationship building.
Potential Challenges:
Your dog will face an overwhelming number of novel sights, sounds and smells. Some of these things may be frightening, especially if your dog wasn't socialized to them as a puppy.
Your daily routine will drastically change, which will affect your dog as well.
It can't be helped, but your fur-baby is going to have to get a lot less attention than before, which can be difficult for everyone.
For a while, new people will be appearing in and out of your life as you transition to having your newborn come home.
This increased stress can cause behaviour problems in your dog, such as increased nuisance behaviours like barking or destructive chewing, or more serious problems like aggression directed towards your vulnerable newborn or toddler.

Tools needed to help your dog successfully adapt for when your baby arrives
How to help your dog and child interact in safe and stress-free ways that focus on relationship building and trust over time
How to read your dog's subtle body language to know when they are feeling stressed, and how to help them feel relaxed again
How to help your dog and child adjust at each stage of your baby's growth, as they will be changing rapidly!
To make things go as smoothly as possible, don't leave it to chance or wing it! It's important to take some time to prepare in the months leading up to your new arrival.
Sunday, September 17, 2023
4:30PM-6:30PM
Location:
When Hounds Fly Dundas West
1108 Dundas Street West, Lower Level
Toronto, Ontario, M6J 1X2
Price: $30 plus HST and Eventbrite fees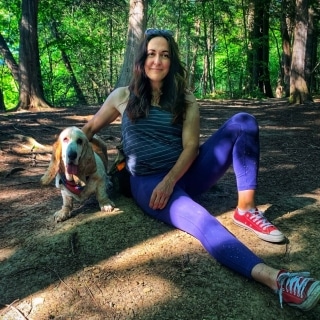 When Hounds Fly is proud to have Rachael Johnston,a Family Paws Parent Educator, on our team, to deliver this crucial information.
Family Paws Parent Educators are trained to help prepare families with dogs for life with a new baby, or also to help transition when babies are soon to become crawling toddlers.
The Family Paws organization offers two programs:
This program is perfect for expecting families with dogs as they prepare for life with baby.
This program is ideal for families with dogs and babies who are soon to be crawling or walking. Oftentimes, things go smoothly until the dog begins to show discomfort with the new developmental changes of their mobile baby.
To help you be successful with integrating your new baby or toddler with your dog, we offer the following services: