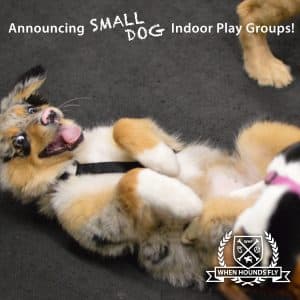 We are pleased to introduce Small Dog Social play groups for alumni and dogs that are currently enrolled in classes at When Hounds Fly! This is an excellent opportunity to socialize and exercise your dog off leash in a safe, clean and supervised environment.
Play groups will be 45 minutes in length and supervised by an experienced associate instructor.
Cost is $20 per dog per session with a maximum of 5 dogs per play group.
Play groups are suitable for:
Alumni and Current Students Only
Dogs under 20 lbs
Dogs that are up to date on vaccinations (3rd booster minimum)
Neutered or Spayed if over 7 months
Dogs that are well socialized. Dogs that are disruptive, display bullying or aggressive behaviours will be asked to leave.
Dogs that hump other dogs excessively will be asked to leave.
Dogs that mark/pee constantly will be asked to leave.
Pre-registration and pre-payment is required for all participants. Due to limited space, no refunds will be offered for missed classes and cancellations must be no later than 24 hours before the scheduled play group.
Play groups will be offered at both locations every week throughout the Winter:
Saturdays at Pape Village from 3-3:45pm starting January 20
Sundays at Dundas West from 3-3:45pm starting January 14
(On weekends with sufficient demand, sometimes a second 4-4:45pm group is added)
To sign up:
Please email the office at info@whenhoundsfly.com to request a login and link to our Small Dog Social calendar. Please include your dog's name and breed so we can look you up in our alumni/student list.
Please allow up to 24 hours for us to receive your request and issue your login for booking and payment.