Over 70 5-Star Reviews on Google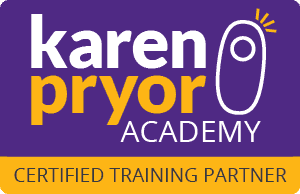 Three Karen Pryor Academy CTPs on Staff


Four CPDT-KA Instructors on Staff
You've got a lot of choice about where to go for dog training expertise.
So, why choose us?
1. A Commitment to Positive Reinforcement
We believe Positive Reinforcement is the most effective way to change behaviour, therefore it's our promise that above all, we will use positive reinforcement methods for both our canine and human learners. Both you and your dog will feel supported by us, treated as unique individuals, and find it fun and enjoyable to learn with us.
Read about our training methods here.
2. Convenient and Fast
Start Anytime programs – Unlike other schools that have rigid start dates and require a committing to a single day and time week after week – new students join us at any time. Both our Puppy Socialization and Foundation Skills classes are setup to be Start Anytime at both our Dundas West and Pape Village locations.
We have four locations – one in Dundas West (Dundas West at Ossington, steps away from Trinity Bellwoods), one in Queen West (Tecumseth at Richmond, major interesction is Queen West and Bathurst) and the other in Pape Village (Pape Avenue at Cosburn). Both are easily accessible by car (and have on-street, side-street, and parking lots nearby) and TTC.
We also run Puppy Socialization classes on Sundays at Wellesley Animal Hospital at Yonge and Wellesley!
For private training, we continue to grow our team (we're at 8!) so you can see us as quickly as possible.
3. Experience Counts
We first opened our doors for classes in January 2010. Since then, over 9000 dogs and their families have taken classes at When Hounds Fly. Most of our new students are referrals from past students, veterinarians, and other pet industry professionals. Our reputation and success is built upon the success of our students!
Furthermore, working with When Hounds Fly means you are working with a team, not just a solo trainer. We meet weekly to review our client cases together – more experience and more insight to help you and your canine out.
4. Top Instructors
All the senior instructors at When Hounds Fly are either Karen Pryor Academy Certified Training Partners (KPACTP), or have their Certified Professional Dog Trainer-Knowledge Assessed (CPDT-KA) designation, or both, so we are proud to maintain the highest standards of instruction of any school in Toronto.
Read more about our instructors here.
Still not sure?
Contact us and let us know what questions you have. Or, if you've like to come audit a class (without your dog!) and see for yourself, we've love to have you visit.