Over 70 5-Star Reviews on Google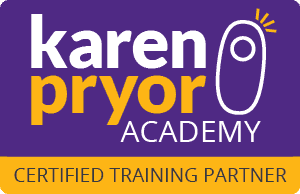 Three Karen Pryor Academy CTPs on Staff


Four CPDT-KA Instructors on Staff

Canine Graduates Since 2010
You've got a lot of choice about where to go for dog training expertise.
So, why choose us?
First, read this article by the American Veterinary Society of Animal Behavior – How to Choose a Dog Trainer
And, here are five reasons:
1. Start ANY Time Programs
Unlike other schools that have rigid start dates and require a committing to a single day and time week after week – new students join us at any time. Both our Puppy Socialization and Foundation Skills classes are setup to be Start Anytime at both our Dundas West and Pape Village locations.
2. Convenient Locations
We have two locations – one in Dundas West (Dundas West at Ossington, steps away from Trinity Bellwoods), and the other in Pape Village (Pape Avenue at Cosburn). Both are easily accessible by car (and have on-street, side-street, and parking lots nearby) and TTC.
3. Experience Counts
We first opened our doors for classes in January 2010. Since then, over 7000 dogs and their families have taken classes at When Hounds Fly. Most of our new students are referrals from past students, veterinarians, and other pet industry professionals. Our reputation and success is built upon the success of our students!
4. Outstanding Training and Effective Results
Utilizing the techniques developed and advocated by Karen Pryor (www.clickertraining.com), our force-free methods are safe for all family members, strengthen (not damage) your relationship with your dog, and are scientifically proven to be the most effective.
Read about our training methods here.
5. Top Instructors
We were the first school to really bring serious clicker training to Toronto – nine years later, everyone else is jumping on the clicker bandwagon. But not all dog trainers using clickers are created equal. All the senior instructors at When Hounds Fly are either Karen Pryor Academy Certified Training Partners (KPACTP), or have their Certified Professional Dog Trainer-Knowledge Assessed (CPDT-KA) designation, or both, so we are proud to maintain the highest standards of instruction of any school in Toronto.
Read more about our instructors here.
Still not sure?
Contact us and let us know what questions you have. Or, if you've like to come audit a class (without your dog!) and see for yourself, we've love to have you visit.