Fear, Anxiety, and Aggression – Behaviour Modification for Dogs
This is for you if…
You have a dog that is struggling with fear, anxiety, or aggression problems.
Barking and lunging at other dogs
Barking and lunging at strangers
Aggression towards dogs or people (nipped or bitten or caused injury to other dogs or people)
Resource Guarding (aggression to keep toys, bones, or stolen objects)
Handling Sensitivity (aggression when touched, held, groomed, or restrained)
Separation Anxiety
Our Values and Methods
Our organization adheres to the guidelines found in the Humane Hierarchy, which has also been adopted by many organizations such as the CCPDT.
In brief, you can expect that our behaviour modification plans will include:
Ensuring the health and physical well-being of the dog – that includes physical health (diet, rest, exercise, medical illness) and emotional well-being
Setting them up for success – Avoiding putting the dog in situations where he or she is likely to fail and do the unwanted behaviour
Desensitization and Counter-Conditioning – Presenting less threatening versions of the triggering stimulus and pairing it with things the dog really enjoys
Positive Reinforcement/Differential Reinforcement of Alternate Behaviour – Teaching other skills the dog can do instead of the unwanted behaviour
Rest assured, you will not find these kinds of techniques or tools in our training plans:
Leash corrections (jerking on the dog's neck)
Punishment collars (choke chain, prong collar, shock collar)
Physical violence (scruff shakes, alpha-rolls, pinning the dog)
Fear-inducing deterrents (throw chains in bags, water balloons, pop cans full of pennies, "pet corrector" horns, etc.)
Availability:
Sara Russell has appointment windows in the West-End on Monday at 3:30PM, Sundays at 3:30PM. East-End on Saturdays at 3:30PM.
Rachael Johnston has appointment windows only in the West-End on Monday at 5:30PM and 7:30PM, and Saturdays and Sundays at 4:00PM.
Andre Yeu has appointment windows in the West-End on Thursday at 3:00PM, Friday at 5:00PM, Saturday afternoons (times vary from week to week). and West or East-End on Sundays at 5:00PM.
Please note, we are usually booked a couple of weeks in advance and our first available appointment may be 2-4 weeks from the time you complete an enrollment form.
View our availability here on our Read-Only team booking calendar. Please do not actually book us via this calendar, as we only accept bookings from clients who have enrolled and whose cases we have accepted. We have published this here to give prospective clients a sense of what the lead-time between enrolling and first appointment is like.
Our Service Area
In-home lessons are available as follows:
West-End In-Home Service Area (Bordered by Bloor Street West, Lansdowne Ave, King Street West, and Bathurst Street)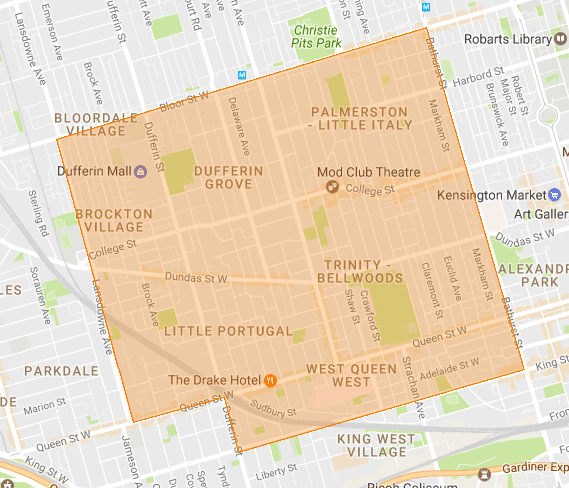 East-End In-Home Service Area (Bordered by O'Connor Drive, Coxwell Ave, Eastern Ave, and the Don Valley Parkway)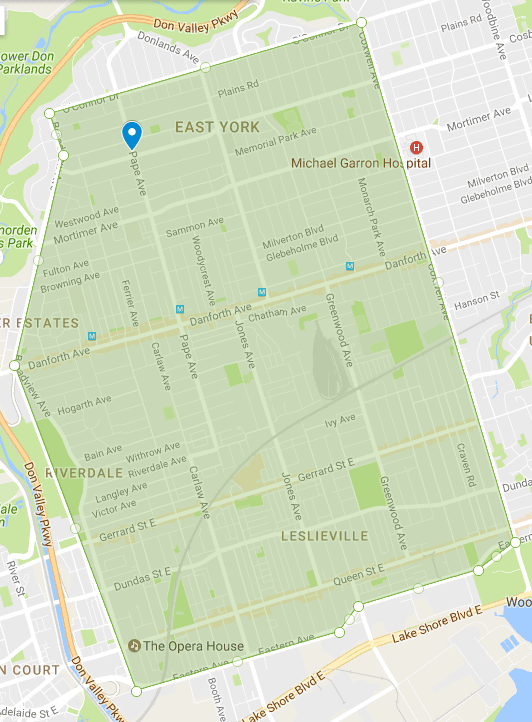 In-school lessons are available out of Dundas West and Pape Village. We are happy to work with you at our two facilities if you are outside of our service area.
What's It Cost?
A private lesson package (Two Lessons, 90 minutes and 60 minutes), which includes a post-lesson summary write-up and applicable handouts/additional resources ranges from $300 to $360 (for a senior instructor) plus HST. Please note, for new clients, we require payment in advance to finalize your appointment bookings.
For details regarding class/training policies, please see our Policy page.
OK, I'm Ready to Learn More
Click here to learn about the Application Process for Private Lessons.