Reactive Dogs, Fearful, Anxious or Aggressive Dogs – Behaviour Modification for Dogs
This is for you if…
You have a dog that is struggling with reactivity, fear, anxiety, or aggression problems.
Barking and lunging at strangers (People Reactivity)
Aggression towards dogs or people (nipped or bitten or caused injury to other dogs or people)
Resource Guarding (aggression to keep toys, bones, or stolen objects)
Handling Sensitivity (aggression when touched, held, groomed, or restrained)
Fearful and shut down in new or strange environments or around new people
---
"Rachael was absolutely wonderful – she is experienced, knowledgeable and makes you feel super comfortable and confident. She gave us great tips, answered all of our questions, and was overall an excellent teacher (showing us by example and then having both my husband and I try). We had moved condo buildings and our dog had become reactive to some of the new dogs in the building and in just 2 sessions with Rachael he has improved so much. He now seems relaxed and secure and excited about his new routine and skills. How much she cares about dogs comes across and you can tell she really wants to help."
– K. Turner
---
Our Process
The When Hounds Fly GETS Process for Behaviour Change is our system for working with our clients to support them through their journey of employing humane approaches to change behaviour in their dogs.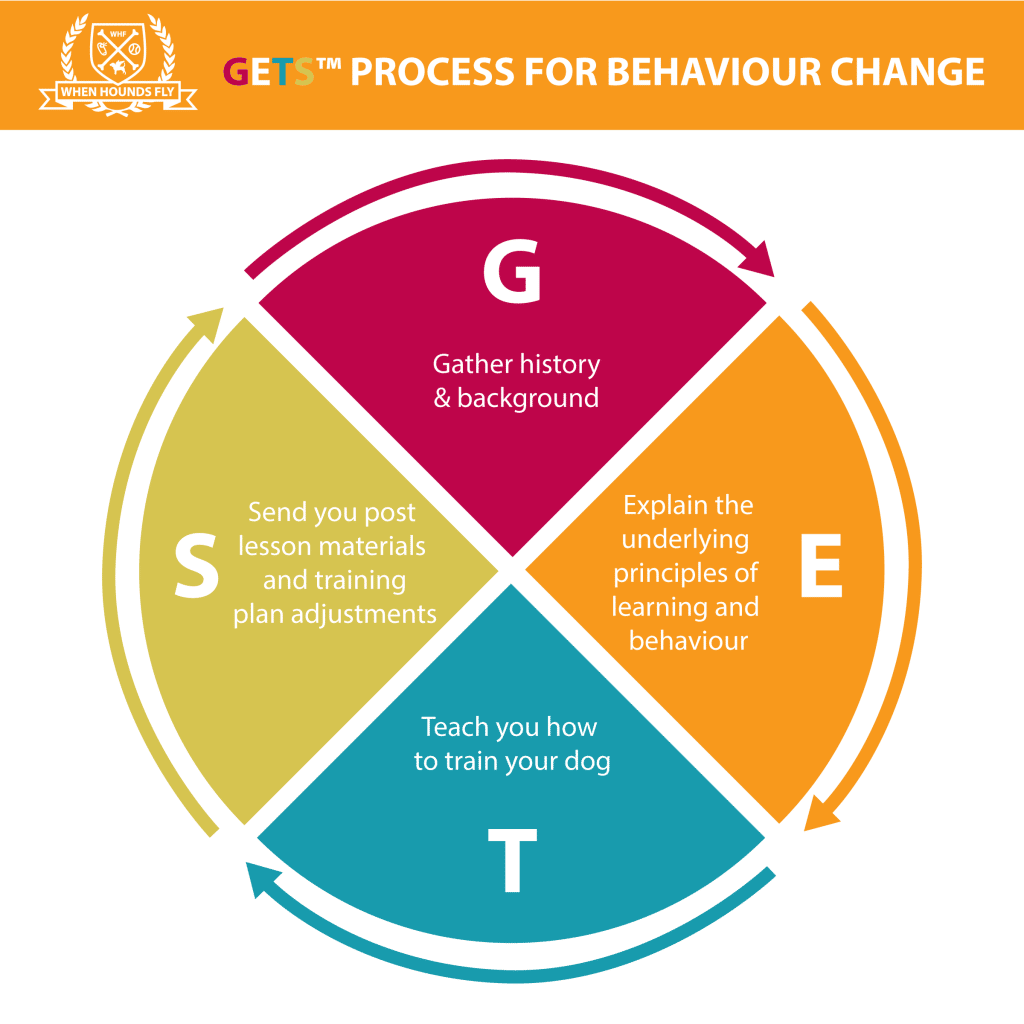 First, Gather history and background to understand the antecedents contributing to the behaviours of concern. Our clients complete a comprehensive Canine Behaviour History Form, and during the first appointment, we review it together to confirm understanding of the critical contributing factors.
Second, Explain the underlying principles of learning and behaviour that reinforce the behaviours of concern, and how you'll change these behaviours over time.
Third, Teach YOU how to teach your dog! The journey will require consistent effort over time, and if we do our job correctly, you'll have the skills you need to see it through.
Lastly, Send you post-lesson followup materials, and adjustments to your training plans until we see you for your next lesson.
Our Values and Methods
Our organization adheres to the guidelines found in the Humane Hierarchy, which has also been adopted by many organizations such as the CCPDT.
In brief, you can expect that our behaviour modification plans will include:
Ensuring the health and physical well-being of the dog – that includes physical health (diet, rest, exercise, medical illness) and emotional well-being
Setting them up for success – Avoiding putting the dog in situations where he or she is likely to fail and do the unwanted behaviour
Desensitization and Counter-Conditioning – Presenting less threatening versions of the triggering stimulus and pairing it with things the dog really enjoys
Positive Reinforcement/Differential Reinforcement of Alternate Behaviour – Teaching other skills the dog can do instead of the unwanted behaviour
Rest assured, you will not find these kinds of techniques or tools in our training plans:
Leash corrections (jerking on the dog's neck)
Punishment collars (choke chain, prong collar, shock collar)
Physical violence (scruff shakes, alpha-rolls, pinning the dog)
Fear-inducing deterrents (throw chains in bags, water balloons, pop cans full of pennies, "pet corrector" horns, etc.)
Availability:
Our team is growing and we strive to offer you fast turnaround from inquiry to your first booking. In a few cases of very severe aggression or anxiety, clients may need to book farther out for a senior instructor.
---
"We are thrilled with how far King has come!
King is a rescue from the Toronto Humane Society and we got him a little over a month ago. He's about a year and a half and to say he's full of energy is an understatement. When we first got him we were told he was very dog aggressive, and probably wouldn't do well in a condo.
Enter Stephanie – Within the first few minutes of meeting her we knew she was perfect for us. She's extremely knowledgeable, confident, and you can just tell she loves dogs. She was very patient with the 3 of us and gave us confidence in our training. Without Stephanie we would have never realized how smart King is, and how much potential he has. "
– Steph, Dylan & King!
---
Our Service Area
Lessons Via Zoom: Anywhere!
In-person lessons are available as follows:
West End: Bordered by Eglinton to Davenport in the North, Spadina to the East, 427 to the West, to the Lakeshore.
Midtown: Bordered by Sheppard to the North, Don Mills to the East, Bloor to the South, Allen to the West.
East End: Bordered by O'Connor/St Clair to the North, Birchmount to the East, Broadview Avenue to the West, to the Lakeshore.
Around Fairview Mall: Steeles East to the North, Warden to the East, Leslie to the West, south to the 401.
In-school lessons are available out of all of our 5 locations (Pinmarked on the above map). We are happy to work with you at our facilities if you are outside of our service area.
A Team Based Approach for Success:
We are a team! Working with When Hounds Fly means you get many experts working behind the scenes to help you succeed. We hold weekly case review calls where we review our current cases and brainstorm as a team for best practices to bring back to our clients. Our most senior instructors have 10+ years experience each, allowing our whole team to leverage our collective knowledge. Why hire one trainer when you can work with a team?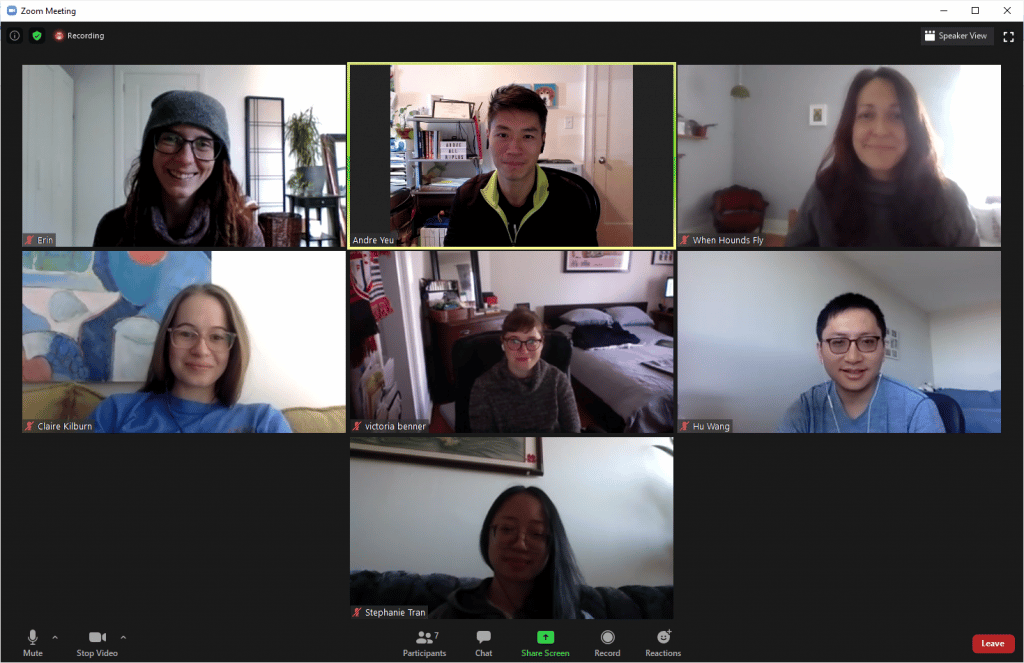 What's It Cost?
A private lesson package (Two Lessons, 90 minutes and 60 minutes), which includes a post-lesson summary write-up and applicable handouts/additional resources ranges from $330 (instructor) to $396 (senior instructor) to $528 (for our most experienced instructor) plus HST. Please note, for new clients, we require payment in advance to finalize your appointment bookings.
*For Separation Anxiety Consulting Services , Click Here.
For details regarding class/training policies, please see our Policy page.
---
"A year after our
private

sessions with Andre, our beagle Jake sits on our front porch and watches dogs walk by without aggression — dogs that used to set him off on sight at any distance. We continue to use food rewards on walks and have reduced fear-aggression responses to a rarity. He no longer guards the porch when the postman, delivery people or friends approach. Can't tell you how grateful we are for Andre's sound advice."
– Tom and
Deborah
---
OK, I'm Ready!