Puppy Start Right Program
This Is For You If…
Your larger-breed dog finishes by 17 weeks, and your smaller-breed dog can finish by 21 weeks. That means you're on the ball and you've applied for admission as soon as you get your 8 week old puppy, or even before they've left the breeder.
The Program – Puppy Classes
Five classes modules – Start in any order (you don't have to start on Module 1). Classes are organized around basic clicker training exercises, best-practice advice and exercises to raise your puppy, and structured on and off-leash socialization and free time with your puppy's classmates.
Module 1:
Socialization Exercise: Resource Guarding/Food Bowl Safety
Training: Walk with Me
Module 2:
Puppy Topic: Visiting the Vet and the Groomers
Socialization Exercise: Accepting Handling, Restraint, Grooming
Training: Lay Down
Module 3:
Puppy Topic: Body Language, Preventing Fear, Anxiety, and Aggression
Training: Greetings with Consent
Module 4:
Puppy Topic: Alone-Time Training / Housetraining
Socialization Exercise: Practice being left alone
Training: Hand Targeting (Touch)
Module 5:
Puppy Topic:  Nipping and Biting / Appropriate Play
Training: Recall Games (Come)
Training: Tug of War / Drop It
---
"My husband and I took did the Puppy Start Right classes with our pup when we first got him. Two years later I still think it's the best thing we've done so far as pet "parents". In addition to teaching him the basics and teaching us how to properly train our pup, I think the early socialization made a huge difference in terms of how he interacts with other dogs. We take him to doggy daycare a few times a week and every time we pick him up the staff comments on how good he is with other dogs (even the ones who don't typically play well with others).
The classes at When Hounds Fly were fun, informative and taught us how to train our dog instead of just focusing on teaching obedience and tricks. If you have a new puppy, I highly recommend the Puppy Socialization class."
– Lauren K.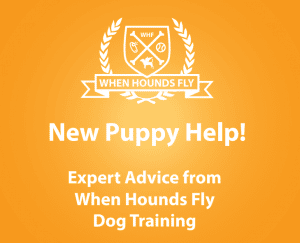 Special Offer: Get our free, helpful "New Puppy Help" PDF with some tips on common issues like housetraining, nipping and biting, crying when left alone, and leash walking.
---
Why Puppy Classes Are Important
To reduce the likelihood of a puppy growing up and developing fear, anxiety, or aggression problems, it is important that prior to complete vaccinations, the puppy must have a rich socialization history. A well-run puppy socialization class is a key component of that.
Puppies without complete vaccination should not be taken to dog parks or dog daycares mixed with adult dogs. Therefore, a puppy socialization class with strict age limitations in a sanitized environment is a crucial component to early socialization towards a variety of breeds of dogs.
The American Veterinary Society of Animal Behavior believes it should be the standard of care for puppies to receive such socialization before they are fully vaccinated.
In 2008, the AVSAB released a position statement urging veterinarians to encourage clients to enroll in Puppy Start Right classes prior to 3 months of age. Download their position statement here.
Do not wait until your puppy has received all their boosters, or else they will likely be too old to participate in our program.
"Given the fact that behavior problems are the No. 1 cause of relinquishment to shelters, along with the fact that 56% of dogs that enter shelters in the United States are euthanized, and that puppy classes help prevent behavior problems and increase the likelihood of retention in the home, there must be evidence of phenomenal risk of infectious disease transmission associated with early socialization classes to warrant holding puppies back. And there is no such evidence to date. In fact, renowned behaviorist Dr. R. K. Anderson, a longtime advocate for early socialization, has more than a decade of experience and data supporting the relative safety and lack of disease transmission in puppy socialization classes in many parts of the United States."
Puppy Class Program Tuition:
Regular Tuition: $236.25 per dog plus HST (January 1, 2022)
Daytime Only Classes: $189 per dog plus HST (January 1, 2022)
What's the difference?
"Regular Tuition" allows you to book classes on weekday evening or weekends.
"Daytime Only" allows you to book classes during weekday daytimes – please see your location's calendar for availability.
For details regarding class/training policies, please see our Policy page.
Where is the Program Offered?
All five of our locations (Dundas West, Pape Village, Queen West, Yonge & Eglinton, and South Etobicoke). Tuition grants you flexible access to all locations!
Apply for Admission for Classes: