In the last six years, over 3000 dogs (and their owners!) have taken classes with When Hounds Fly.
We're proud to announce that our 3500 square foot facility in Pape Village (1036 Pape Avenue) is now open, and accepting new students.
About Our Facility in Pape Village
Our latest facility is our most spacious to date, and is fully climate controlled, well ventilated, brightly lit, and clean. We've organized it ground up based on our knowledge of how to deliver 5-star dog training class experiences for our students.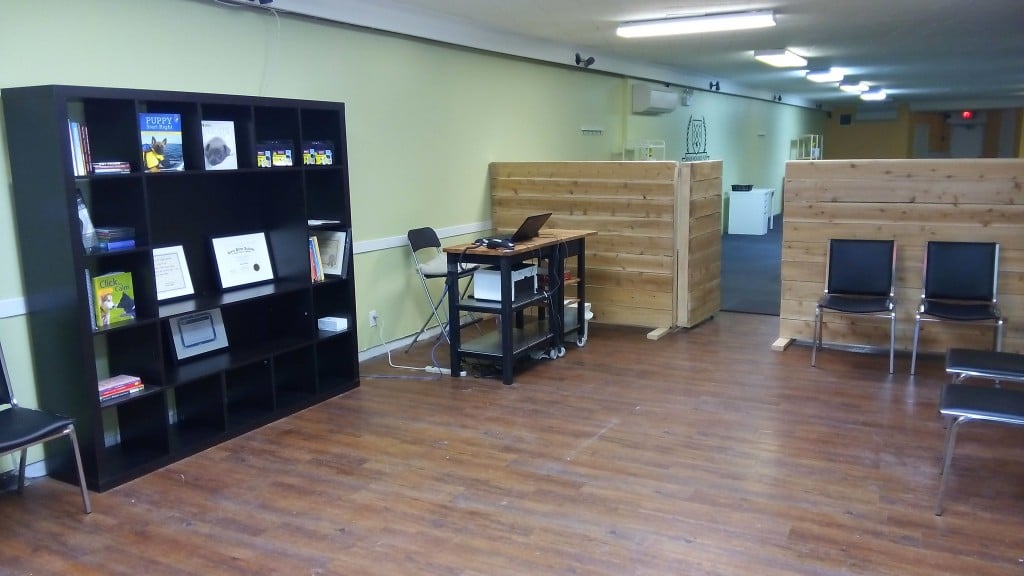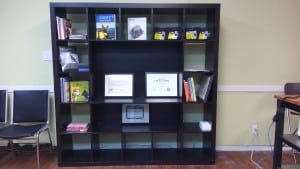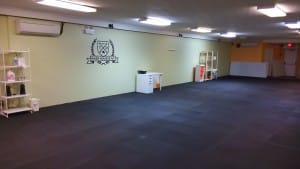 Conveniently located in Pape Village (at Pape and Cosburn), this centrally located space is ideal if you live in Riverdale, Leslieville, The Danforth, East York, The Beach, Leaside, Rosedale, Cabbagetown, and The Distrillery District. We're just minutes off of the Don Valley Parkway.
About our Instructors:
To ensure that our new students get the exact same quality of instruction that we've become famous for, one of our most senior instructors, Katie Hood, will be teaching all of our Puppy Socialization and Foundation Skills classes at Pape Village. While we are ramping up, our new students here will benefit from smaller class sizes (which means a semi-private lesson experience, and lots of attention), and a very wide range of available class date and times.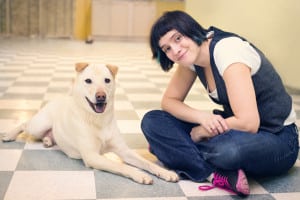 About Pape Village:
Pape Village is a quiet, modest neighbourhood showing sparks of incredible growth and change! When Hounds Fly is pleased to be part of an emerging community of new, exciting shops and services in this neighbourhood. With a good supply of reasonably-priced detached homes in the neighbourhood and good schools nearby, it's quickly becoming a choice location for young families to live in.
Some of the awesome spots we've discovered since opening up include:
Owner Peggy Liang's cute and bright grooming space and boutique is an ideal place to take your pup for a trim and a treat. Christine Ford of ohmydog dog walking takes Joey, her Westie, all the way to Peggy, even though Christine lives in Queen West/Trinity Bellwoods.

Dr. Judy Au and Dr. Jackie Elmhirst are just a block south of us. Danforth Veterinary Clinic has been serving the community of Pape Village for over 15 years.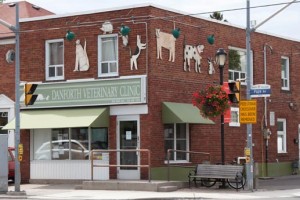 When you're done classes, make sure to visit Goat Coffee Co. (one of the Top 10 most Instagrammable Cafes according to BlogTO). It's quickly becoming our preferred meeting and work space when we're not teaching classes.
Yum! Vegan & GF Burgers at the Goat ?#yum#vegan#burgers#gf#delicious#toronto #416 #the6#papevillage#foodpic.twitter.com/K9Zp2YYIKp

— goat coffee co. (@GoatCoffeeCo) December 9, 2015