The proper socialization of a puppy has always been important and challenging, yet with the realities of the Covid-19 pandemic, physical distancing, and state of emergency rules and regulations in place, it's become 10x more difficult and also more important to get correctly.
Why is this important?
Puppies that are incorrectly socialized are at a much greater risk of developing fear, anxiety, or aggression issues later in life.
The socialization window (where we have the greatest ability to affect the future temperament of a puppy) closes at approximately 18 weeks.
In brief, you run the risk of having a dog aggressive or people aggressive adult dog if you don't properly socialize a puppy before they turn 4 months old.
What's your puppy's socialization history going to look like?
How will your puppy cope later in life to a busy outdoor marketplace like St. Lawrence Market?
How will your puppy cope with a busy Sunday afternoon at Trinity Bellwoods dog park?
How will your puppy cope when your child has their first birthday party, and ten of their friends come over?
These are experiences that are NOT likely part of your puppy's socialization history and they are more likely as a result to respond fearfully or aggressively in these contexts, putting other people, other dogs, or children at risk.
Our 10 Puppy Socialization Hacks
Our team has been brainstorming ever since mid-March on creative ways we can instruct our students to at least provide substitute socialization experiences that mimic or approximate scenarios that are impossible during the pandemic.
Those puppy owners that are receiving our guidance and using these creative hacks, we believe, will be less likely to suffer the consequences later of a less creatively socialized pandemic puppy.
Watch the Webinar
On April 12, we delivered a live-broadcast webinar on this very topic, and it's here for everyone to view:
Please Read This Disclaimer!
Please note that everything involves risk, information is changing daily, and your local realities may differ from ours. Therefore, please comply with your local, municipal, provincial/state, and federal rules, and factor in your own personal risk tolerance.
Also, please note that socialization is a careful process of exposure and striking a balance between no exposure or over-threshold exposure (or flooding). Therefore, please rely on experts to help guide you around how to properly do socialization to create truly positive emotional associations with all the scenarios and stimuli in this list. Coming to our Puppy Socialization classes (virtually at this time) is a great way to get expert advice on this.
10 Genius Hacks to Socialize Your Puppy Safely During Covid-19
Meet a New Dog
Run Off Leash In The Park
Meet 100 People in 4 Weeks
Visit the Groomer
Dog Parents Going to Work
Dog Walker Pickup and Dropoff
Company Coming Over
Experience a Busy Dog Park
Experience a Noisy Festival
Attend Puppy Socialization Classes
Meet a New Dog – Volunteer Sitting or Care for a Frontline Health Worker's Dog
It's well known that mature, well-adjusted, and sound adult dogs can teach younger puppies social norms. They will tolerate rough-housing and nuisance behaviour up to a point, but will fairly and consistently correct behaviour that crosses the line.
While our frontline healthcare workers are risking their health for our well being, let's help them by letting them relax knowing their doggies are being taken care of, all the while taking your puppy under their wing.
Dogs, leashes, harnesses, etc. are surfaces that can the Covid-19 virus on them, so make sure to follow appropriate safety protocols when handing off their dog for care, and handling leashes, etc.
Look for opportunities to volunteer on your neighbourhood's local Facebook group, or other local-based social media sites like Nextdoor.
Run Off-Leash In The Park
Do NOT access closed off dog parks or city parks at this time, under any circumstances, as that conduct is not socially appropriate and will likely earn you a hefty ticket.
We adamantly endorse and support leash laws and do not condone the violation of local leash laws at any time, pandemic or not!
Instead, request/gain access to private property to use (ask for help!) and even if this environment isn't fully fenced off, use the dog trainer's old friend, the long-line. Sniffspot.com is an example of an "AirBNB" of off leash dog space you could try, in addition to conventional social media forums.
Meet 100 People in 4 Weeks
Make your daily puppy outings include walk-bys of the lineups outside of large supermarkets and big box stores.
Here, you'll find a diverse group of people (satisfying the need for a wide range of types of people) who are captive, all in one location, and could definitely use some cheering up or entertainment (who doesn't like cute puppies?)
Maintain physical distance as needed, do not allow direct contact, but encourage people to interact verbally at a distance with your puppy, and use training techniques like Engage-Disengage/Look at That (which we teach in Foundation Skills classes) to simultaneously teach appropriate behaviours in your puppy and get some positive emotional associations going.
Visit the Groomer
Use a counter or table, with a non-slip yoga mat, to simulate a grooming table, and buy basic grooming tools from your local pet store. In our Puppy Socialization class, we cover the correct techniques to introduce these procedures without traumatizing your puppy.
Dog Parents Going to Work
You should be leaving home most days (Monday to Friday at least, if that's your work schedule normally) in the morning, practicing confinement and isolation. Otherwise, you will probably have a dog that has severe separation anxiety issues down the road.
Dog Walker Pick Up and Drop Off
After you've gone to pretend work, come back in a costume, with your face obscured fully, and in a different coat or jacket your puppy's never seen. Get them used to strangers picking them up and dropping them off midday so that in months to follow, your adolescent will feel safe when their future dog walker comes for their midday walk.
Company Coming Over
We call this 30 Days of Halloween! Have different family members leave and come back in costume, and rehearse your Polite Greetings strategies (also covered in our Puppy Socialization classes!) so they don't develop over-excitement, jumping, or fear/aggression responses to company coming over.
Experience a Busy Dog Park
Over the years we've had many dogs develop an unwanted behaviour problem – aggressive barking at dogs that appear on TV. We're turning this around and suggesting you proactively play videos of well socialized, friendly dogs interacting, demonstrating pro-social and affiliative behaviours. Supervise these TV viewing sessions and use counter-conditioning so you don't create that barking/aggression problem described earlier.
Experience a Noisy Festival
In many parts of Canada, a nightly tradition has emerged – the 7:30PM Health Care Workers salute. Neighbours come out on their balconies and porches and bang pots and pans, play instruments, and hoot and holler. Practice daily exposure to these sights and sounds with your puppy so that they become jubilant towards commotion and people celebrating on the streets.
Attend Puppy Socialization Classes
While our brick and mortar classes are closed, our Virtual Classrooms are open. And, for the first time ever, people all around the world can get access to our leading-edge curriculum and experience our classroom vibe from anywhere in the world!
Click here to learn more about our program and to apply for admission.
We've also created an infographic of these 10 hacks for anyone to download and use, please feel free to redistribute it (unaltered though, please!)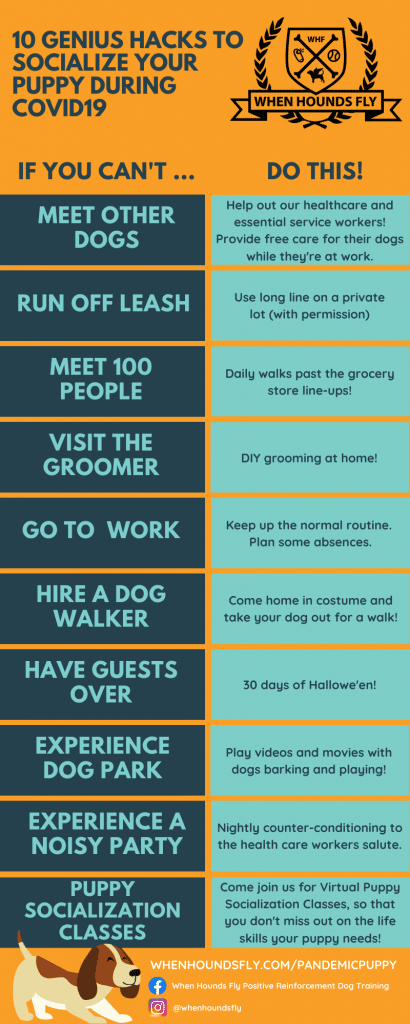 And Welcoming When Hound Fly's Own Pandemic Puppy: Venn
And watch this space! Claire Kilburn, one of our instructors, will be raising her own pandemic puppy, and we'll be developing and documenting her own efforts to raise a well-socialized puppy during the Covid-19 pandemic.
A bit about her new puppy, Venn:
Venn is a working line Border Collie from PowerTripp Border Collies in New York. His parents work stock, and also play dog sports such as disc, flyball, and dock diving. His dam has even competed at the DockDogs World Championships!
Claire is hoping to get him started in agility, obedience, and a few other sports. Firstly, though, socialization is in order – and as a #PandemicPuppy, some things will go a bit differently.
Photo Credit: Kim Russell (PowerTripp)