Trained Elsewhere? Challenge our Foundation Skills Program
You have taken classes elsewhere and would like to challenge our Foundation Skills evaluation.
Non-alumni must pass the evaluation for access to ALL advanced classes.
Our advanced classes not only require your dog to have excellent Foundation Skills, but handlers must be familiar with our training methods (clicker training, capturing, targeting, shaping). Dogs and handlers that train with methods incompatible with ours should take the complete Foundation Skills program to learn our methods.
Challengers can purchase a single class credit and sign up for a forthcoming Foundation Skills Module 7 class to have their dog and handling skills evaluated.
Where is it offered?
Foundation Skills Module 7 is offered at all of our locations a couple of times per month (varies from month to month)
Based on our capacity and schedule, our Client Experience team will advise which location/instructor has availability for you.
What's it cost?
A single class credit ($66 plus HST)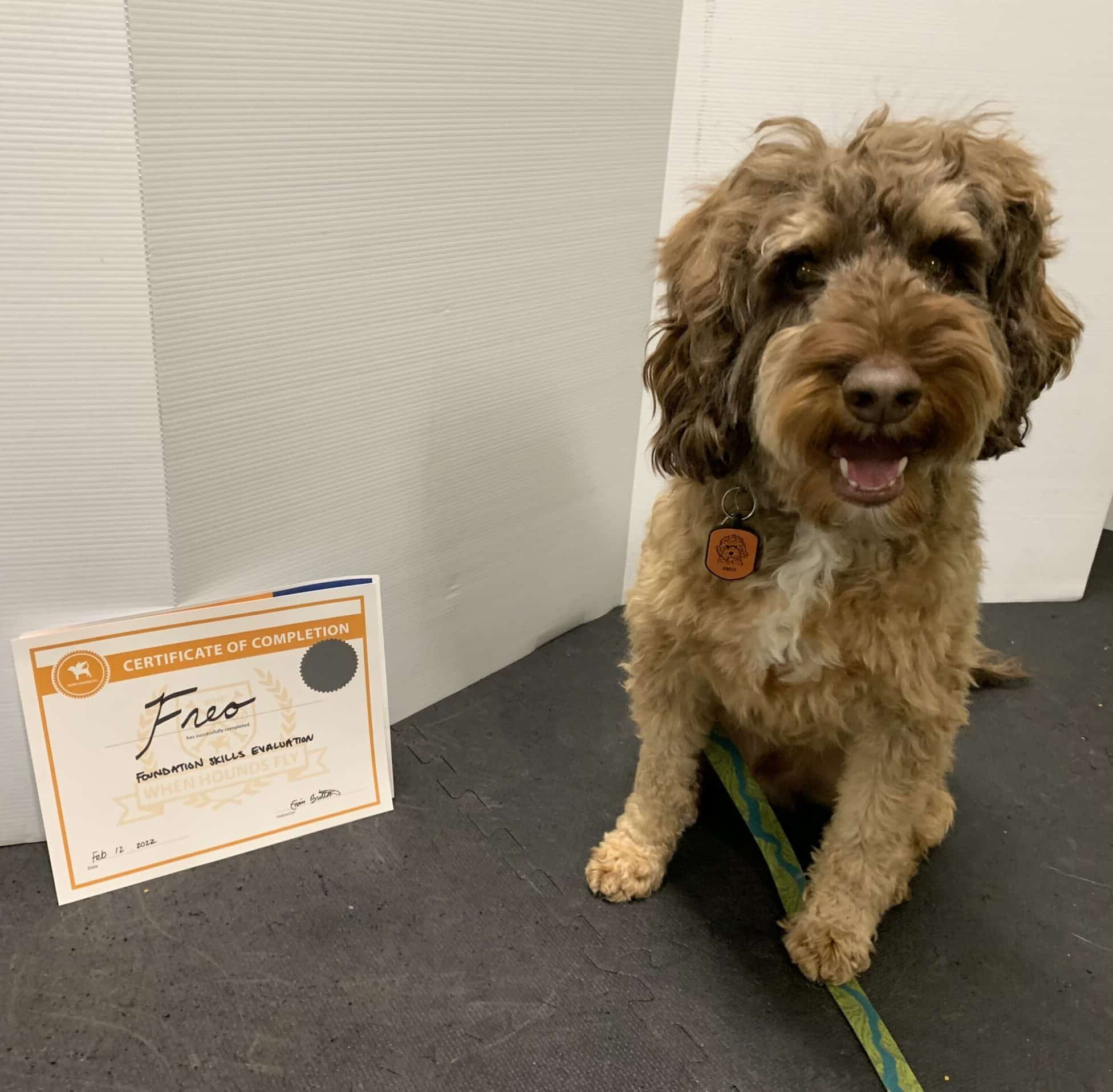 Apply for Admission, Attend Virtual Orientation
Virtual Orientation run on Zoom is held roughly 3 times a week at different but convenient times to fit your schedule.
Attend your Foundation Skills Module 7 Class
Our Client Experience team will direct you to the location/date/time of a forthcoming Foundation Skills Module 7 class for you to attend.
High Value Treats
Clicker
Treat Pouch
Humane Equipment on Dog
Pacifier
Your own mat, if desired
Your own toy or chew for drop it, if desired
1. Dog must be not disruptive (excessive barking, whining, howling)
We want dogs to be confident and comfortable in our classroom environment.
2. Dog must be competent in at least four different behaviours such as:
Loose Leash Walking
Go to Mat/Place
Sit/Down
Stay
3. Dog must be able to eat and ready to work
Dogs ready to train are happy to eat food reinforcement, and easily offer attention to their handlers during the class.
4. Dog neutral to people and dogs
As advanced classes involve a high amount of distractions and proximity to other students and dogs, dogs that are reactive (barking/lunging/pulling at people and dogs) are not suitable for group classes (see our Reactive Dog Group Class program)
5. Student competency in clicker training
As all of our programs are clicker training, we need students to demonstrate the correct use of a clicker. In addition to this, students must demonstrate their skills and their dogs skills without the use of aversive tools or corrections.
During the test, you will be scored on your completion of the challenges as outlined above. You will also be scored on your handling skills and training mechanics. Good training mechanics include:
Click timed to correct behaviour
Click only once
Treat follows click
Mindful use of cues
Hands in neutral position (not in treat pouch)
Food concealed from dog until after click (no baiting/luring)
Able to read your dog's body language
Able to advocate for your dog, and set them up for success
There are three possible results from our evaluation as follows:
1. Did Not Pass – Foundation Skills Recommended
2. Did Not Quite Pass – Specific Modules Recommended
3. Passed – Onto Advanced Classes
OK! I'm Ready to Challenge!
Fill out our Admissions Form and choose "Challenge Evaluation" as your Program. You'll be invited and required to attend a New Student Orientation as the next step.
Now that you have passed our evaluation module, you will now be eligible to take our advanced training classes. Why not check out what we have to offer?