I met Karen for the first time at ClickerExpo, and it was there she asked whether I would be attending the Professional Animal Behavior Associates (PABA) symposium in Guelph in May.  Unfortunately, I explained that I couldn't as there would be too many students/too many classes to run, and with the May 24 weekend the following week, I couldn't cancel classes for the symposium.
After ClickerExpo, via email, Karen suggested that she would like to extend her trip to Canada and after her engagement in Guelph, come visit us in Toronto.  So, after a little bit of planning leading up to it, on May 16, I had the unique privilege to host her for the day in the city!
A world famous author and the pioneer of clicker training is coming to visit and I had a space of approximately 8 hours to make the experience memorable.  If you're not from Toronto and have 8 hours to spend here, feel free to follow this itinerary – you'll enjoy it, I am certain!
So, this is what we did:
4pm:  Picked up Karen at her hotel.  I had arranged for her to stay at the Westin Harbour Castle on Queens Quay and Yonge.  Heavenly bed, lakeview room overlooking the Toronto Islands; back in the day when I worked at salesforce.com, a lot of the folks from San Francisco would stay there and remark that the rooms were great and the lakeview at sunrise was stunning.  You can't go wrong having visiting dignitaries stay there.
430pm:  Karen loves tea.  So our first stop was Nadege Patisserie on Queen Street West, east of the south-east corner of Trinity Bellwoods Park.  We had two pots of tea and an assortment of their perfect macarons.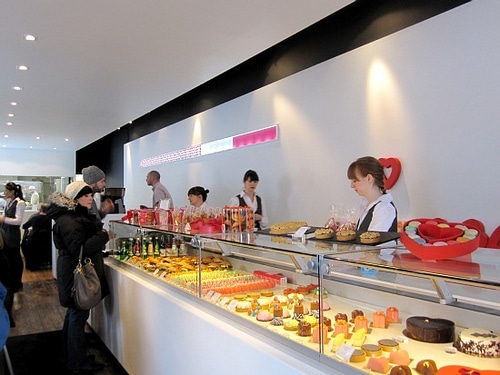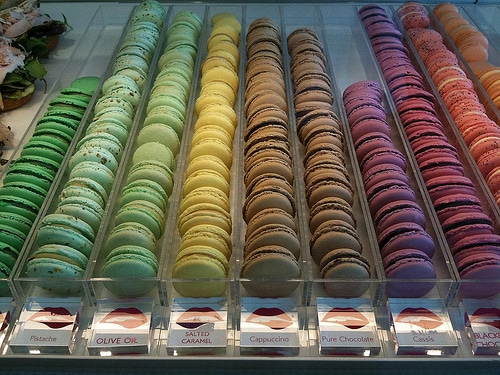 530pm: Enroute to When Hounds Fly, we walked through Trinity Bellwoods Park.  Had the weather been nicer, it would have been an opportunity to observe a lot of owners with their dogs, but unfortunately, with the drizzle, the park was a bit quiet.  Still, with the ample rain we've had, the park was lush, and the few dogs were saw were well behaved.
630pm:  Puppy class at When Hounds Fly!  I had invited all the nearby KPACTPs, all the teachers at our school, and other friends of the school like Krista from UWO and Katie from Queen West Vets to join us.  Karen had expressed interest in watching a class or two at school.  When Hounds Fly opened its doors with puppy class and foundation skills class taught using a modular, non-linear syllabus, which is strongly encouraged in the Karen Pryor Academy curriculum and program. The class that evening consisted of just four puppies; two of which were first timers, and two of which had attended a few classes already.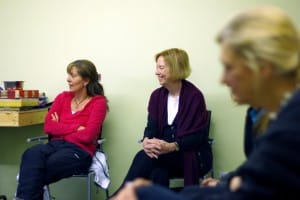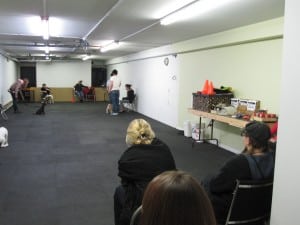 So who came to the event?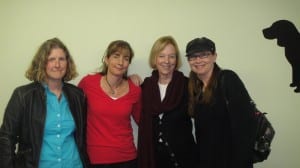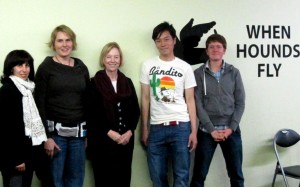 Tena and Katherine own All About Behavior, which runs clicker training chicken camps in Newmarket.  Also in attendance (but I don't have photos of them yet) – Debra Ross (KPACTP), Krista Macpherson from UWO, and Katie Hood from Queen West Vets.
8pm:  School's out!  Time for dinner… at one of Dundas Street West's gems, Enoteca Sociale, just a short stroll from When Hounds Fly.  I had booked their private dining room located in what feels and looks like a wine cellar (I guess it is one) and is also adjacent to their climate controlled Cheese Cave (with a see-through glass window partition).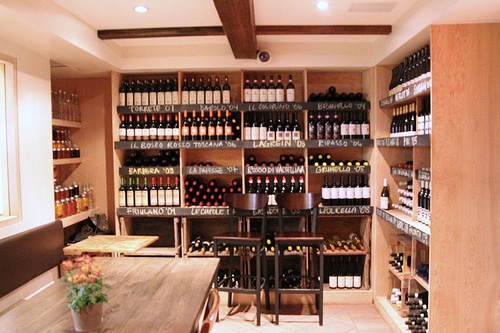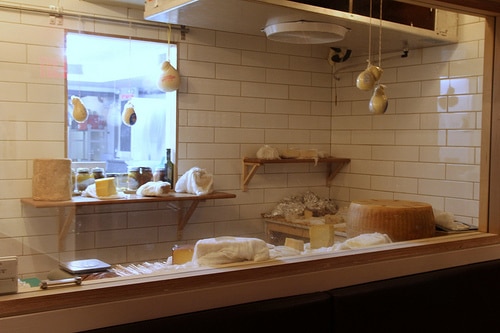 Fiddlestick bruschetta was a featured antipasti, and for dolci, the table was split between their profiterole and a chocolate budino topped with sea salt.
We talked about a lot of things that night, ranging from the likes and dislikes of the recent PABA symposium, animal cognition, horses (I know nothing about horses), animal rescue, e-collars – you name it.  I have to say that it was really amazing to be able to enjoy the company of so many lovely people who are passionate about animals!  But perhaps what was most special is that for the first time, possibly ever, we put a bunch of animal trainers together in a small room that could agree with each other!