Hi Everyone,
I've been on the busy side lately, with opening our second location in uptown Toronto on Avenue Road and Lawrence, getting our online dog training school, Treatpouch.com, off the ground, and attending ClickerExpo in Nashville… oh while I was doing that I also sat for the CPDT-KA examination in March (results pending). But all that is past now and things are settling nicely, so I've decided to enter a Rally Obedience trial scheduled over a long weekend in May (perfect, since we close the school over long weekends!)
The trial will be held at the Red Barn Event Centre in Barrie, Ontario; this is where Emily got her last leg in Novice and got Elsie her Rally Novice title.
Now the world knows, so I have willingly put a lot of social pressure on myself!!! Nothing like a little negative reinforcement for motivation!!!
I like being methodical about my training, so by my count, I have approximately 14 available afternoons for getting Petey ready for the trial. So I'm putting together my training plans of all the behaviors I need fluent and on-cue, and what criteria elements I plan to introduce to try to proof the behaviours as best as possible.
Before starting training, I decided to take advantage of Pavlov and I am in the process of conditioning both a special collar for Petey, and a special article of clothing for me. I won the collar at a raffle at Whattapup's opening party. It's made by The Hydrant, which is a Toronto-based collar/leash manufacturer. For me, I bought an inexpensive zip-up vest from Mountain Equipment Co-op to use as a poor-man's training vest. I've just been putting on the collar, and putting on the vest, and feeding or training Petey.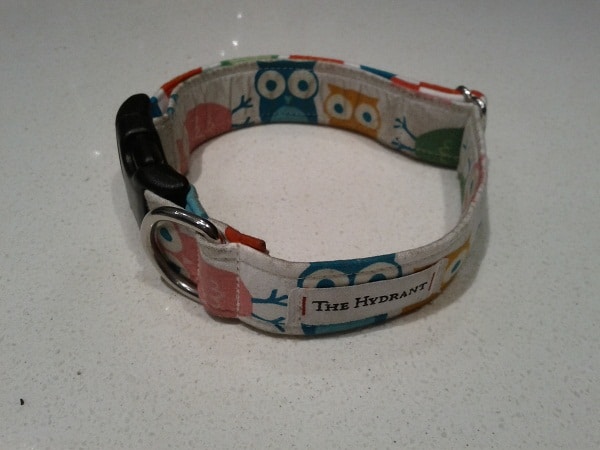 The first "unofficial" training day was on Friday evening when I took Petey to Whattapup's  training hall, as Mirkka had planned to do some training with our fellow trainer-friend Nancy after classes had ended for the night. Check – in a new indoor environment, with dogs milling about and even wrestling, he was focused and worked just as well as when at When Hounds Fly.
This evening was the first "official" training day where I worked on three behaviours primarily.
Front – Just getting it reasonably straight and reasonably close, with a finger point to crotch as the cue
Finish Left – Just getting it reasonably straight and tight with a verbal cue plus either the shoulder lean or left hand swing
Heel – Working on building duration and around and over various articles (I scattered treats on the floor and left novel items around)
So far so good! I look forward to blogging more in this mini-series all the way up to the trial itself.