Congratulations to our most senior instructor, Rachael Johnston, for passing her CPDT-KA examination with an excellent score of 90%. She now joins a very small number of dog trainers in Ontario that are both Karen Pryor Academy Certified Training Partners and have their CPDT-KA designation.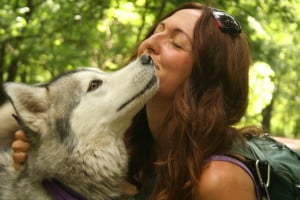 We never doubted that she would easily pass with flying colours. She is, after all, When Hounds Fly's most experienced dog training instructor. She began her career in the early 2000s, first graduating from a dog trainer academy that used correction training, but abandoned those techniques quickly because of the negative effects it had both on her and the dogs.
In 2003, she became a volunteer, mentor, and eventually, an instructor, at Sit Happens in Calgary. In 2009, she graduated from the Karen Pryor Academy, studying under Helix Fairweather. We were lucky to bring her onto our instructing staff in 2012 as she moved to Toronto. She's been teaching on Thursdays and Sundays ever since.
With that many years experience and education, it's no wonder she makes teaching class look effortless!
Congratulations again, Rachael!