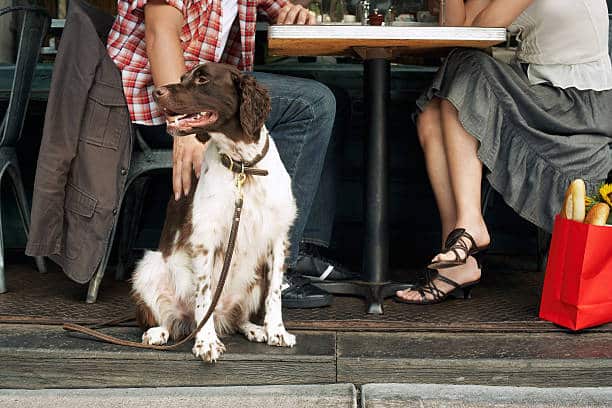 Canine Good Neighbour (CGN) Prep Class
You've done one round of Foundation Skills class, and your dog can stay, recall, and walk nicely on a leash – when there's NO distractions.
But, now you want to put these skills to the test – closer and closer to other dogs and people!
Wouldn't it be nice to be able to..
Have your dog sit calmly while you have a chat with your neighbour?
Pass another dog on the sidewalk, while your dog remains focused on you?
Enjoy time on a patio while your dog settles by your feet?
Then, Canine Good Neighbour is for you and your dog!
Prerequisites: Taken at least one full round of Foundation Skills at When Hounds Fly
Please note: This class is not appropriate if your dog exhibits excessive fearful or aggressive behaviour. Please see our Behaviour Modification page for information on private lessons to address fear or aggression.
---
Program Content
Module 1 – Stay with Distractions
Module 2 – Loose Leash Walking
Module 3 – Leveling Up Your Recall
What's the Canine Good Neighbour (CGN) Test?
In addition to the better behaviour you'll see in public, your dog will also be setup for success to take the Canadian Kennel Club Canine Good Neighbour Test, or also perform well in Therapy Dog evaluations. The CGN test consists of the following twelve exercises:
Accept a Friendly Stranger
Politely Accepts Petting
Accepts Grooming and Examination
Walk Politely on a Loose Leash
Walk Through a Crowd
Sit/Down on Cue / Stay 6 Meters
Come When Called
Calm Down After Play
Reaction to Passing Dog
Reaction to Distractions (strollers, joggers, noises)
Supervised Isolation (Handler leaves dog)
Walking through Doorways/Gates
Program Tuition: $141 for 3 Modules
For details regarding class/training policies, please see our Policy page.
Where and When?
Dundas West – Thursday Nights at 7:20PM with Hu Wang
Yonge and Eglinton – Wednesday Nights at 7:20PM with Anita Rahmati
Pape Village – Sundays at 12:20PM with Anita Rahmati
South Etobicoke – Sundays at 11:10AM with Hu Wang
OK, I'm Ready To Go!
Login to our class calendar system, purchase credit(s) and register for available spots. If you are a returning student and do not have a login on our new platform, please email info@whenhoundsfly.com to request a login.