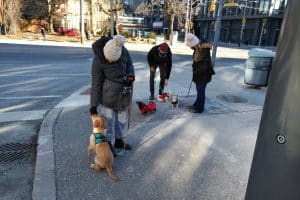 January 14, 2021
In compliance with the Province-wide State of Emergency and Stay-at-Home Order, we're modifying our services to comply with provincial and municipal rules, continuing to offer safe experiences to help you socialize your new puppy.
Current rules allow for individuals to be outside to walk their dogs, and outdoor socially distant gathering limits allow for a maximum of 5 individuals.
In response to these rules, we're pleased to be offering our Puppy Socialization students our new Outdoor Socially Distant Group Walk sessions, chaperoned by one of our highly knowledgeable instructors, there to help you with your leash walking and polite greeting training, facilitate exposure to other puppies in our community, and help you understand how to create positive socialization experiences.
What is an Outdoor Socially Distant Group Walk?
Groups of 4 puppies with 1 owner each, chaperoned by one of our instructors, will meet at a set time by one of our three facilities. The first portion of the session will be working on polite greetings between puppies, reinforcing good social skills between the group. The second portion will involve a short walk around the neighbourhood where that emphasizes exploring the environment and developing further polite greetings and exposure to one another. The session is approximately 20 minutes.
How do I book?
Use your login and book out of one of our Brick and Mortar calendars to reserve your spot.
What's it cost?
A reservation for a single Group Walk will be 0.25 credits.
What are the requirements for the puppy?
As this is conducted outdoors in public, please consult your veterinarian for final guidance. Our opinion is puppies participating in this Group Walk should be at least 12 weeks of age and have had their 2nd vaccination booster. The maximum age should be 20 weeks.
What are the requirements for the humans?
To comply with the State of Emergency rules, only 1 human per puppy may participate. They should be free and clear of Covid-19 symptoms, not have travelled internationally in the past 2 weeks, and not have been exposed to a Covid-19 positive person.
Other family members may be there for the dropoff and pickup and may observe the group walk at a distance such that they are not part of our "group".
To reduce risk for all, during the entire group walk, we insist all human participants where a facemask that fully covers the nose, mouth, and chin.
What equipment should I bring/have?
Puppies must be on a securely fitted harness or collar where they cannot escape. Nylon or leather leashes should be 6 feet in length to allow for socially distant polite greetings between dogs, and free from encumbrances like poop bags or flash lights or other attachments. Retractable leashes are not permitted; those showing up with retractable leashes will not be permitted to participate.
To reinforce good behaviour in your puppy, please bring an ample supply (approximately 100 pieces) of tiny, high-value treats in a treat pouch or fanny pack, and a clicker. First time students may ask for a clicker to keep.
Where do we meet?
Each meetup point is at or very close to one of our facilities.
Pape Village Meetup – 43.68938079738483, -79.34922307216958
Dundas West Meetup 43.64971363648137, -79.41974647337756
Queen West Meetup 43.64564624274372, -79.4054877087017
What about weather?
It's January and February in Toronto, so please dress for cold weather. Only if road conditions make it dangerous (i.e. snow storm) will we cancel sessions. We will notify clients via email if we intend to cancel sessions; if you don't hear from us, please assume they are running.